Dinner with friends at
Gjelina
in Venice.
Here's what we drank. My senses got a little shut down because the restaurant was so noisy, plus the very strong smell of the truffle oil...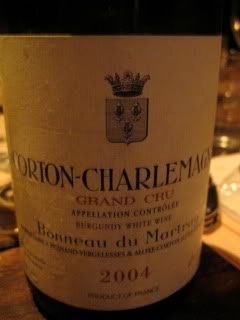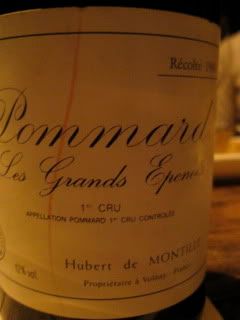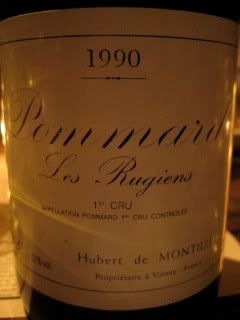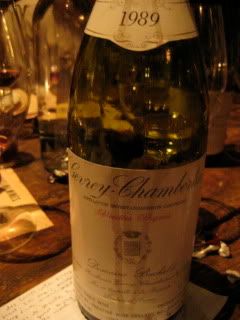 Vilmart & Cie, Champagne Brut 1er Cru, Grand Cellier...Serious terroir-oriented small production estate from Rilly-la-Montagne (1er cru village). 70% Chardonnay 30% PN, aged 10 months in Foudres. Tons of mineral, lemon juice, cumin, hay, high acid and clean zesty finish.
2003 Deux Montille, Puligny-Montrachet 1er Cru, "Les Champgains"...I was very impressed how Montille let this wine express its terroir even in this "hot" vintage. Classic minerality of PM. Creme brulee, intense fruit, spice, ripe citrus, peach. Very smooth palate.
2004 Bonneau du Martray, Corton-Charlemagne Granc Cru...They own only GC vineyards. Vineyards are cultivated by horses. Might have been a off bottle. It smelled a little odd in the beginning, but after a while, the wine showed more floral character.
1999 Domaine des Comtes Lafon, Volnay-Santenos-du Milieu...From the top rated 1er Cru vineyards of Volnay (the vineyard itself is situated within Meursault). The wine was at its perfect stage. Dark garnet color. Dust, pommegranate, white pepper, floral, meaty and minerality on the palate. Very complex and very long finish (more than 30 seconds).
1993 Hubert de Montille, Pommard 1er Cru, "Les Grands Epenots"...One of the top vineyards of Pommard. Still fresh on the palate. Bright fruit, berry sauce, brown sugar. Very silky texture.
1990 Hubert de Montille, Pommard 1er Cru, "Les Rugiens"...A little earthier than the former wine. Dust, berry, dry meat, long finish.
1989 Domaine Bachelet, Gevrey-Chambertin, Vieilles-Vignes...Wet character, raw meat, dirt, mushrooms, berry sauce. Fresh acidity. Very complex.
Wonderful lineup.