Lynne and I took a cab to Nord du Marais and explored the area in the afternoon.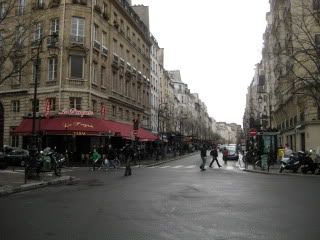 To begin with, we stopped by at Marche des Enfants Rouges for lunch.
In front of the market, there was a wine vendor, who was selling hot wine!
Vin Chaud (hot wine) smelled so nice. It was a organic wine. I ordered a cup and had a sip on the street. Wow, it was a straight hot version of red wine and tasted quite strong. And, I liked it! It tasted especially nice in the cold weather.
We walked inside of the market. There were many local people ordering food from different vendors during the lunch time.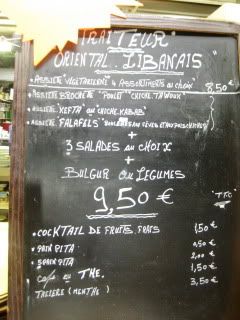 We followed the very nice smell and it was a Lebanese stand. They had a big rotisserie of veal and gave us a taste. Sold! So, I had a plate of roasted veal with vegetable stew and three kinds of salad.