Our very final tasting of this trip was at
Joseph Drouhin in Beaune
. This family-owned domaine/ negocient was established in 1880.
The domaine is located within the ancient Roman walls in the central area of Beaune. It's a very historic building. Jean-Pierre, who is the marketing manager and has been working for Drouhin for 35 years, took us to their old winery building. We followed him in the narrow street. The entrance was just around the corner from their office.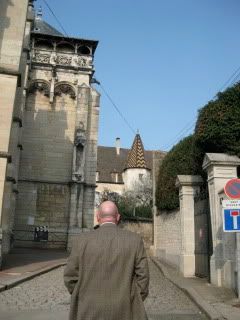 The first room you see after entering a small door is the 13th century cuverie. The old wheel wine press from 16th century is displayed in this room.
From this room, we walked down to the basement. Their caves were so huge and it was like walking a maze! There are three main caves in the basement; the oldest one from 15th Century, one from 14th Century, and 16th Century's cave owned by the French king. Also, part of the walls were from back in 5th (if my memory is correct) century. The entire underground caves are within the roman walls. It was very cold in the underground.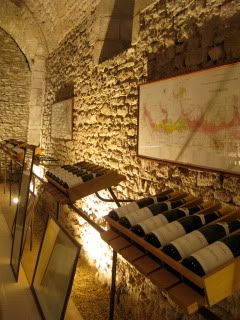 After walking through many narrow (and low-ceiling) paths (they were too dark to take photos), we entered their tasting room. We tasted 11 wine and many of them were 2007 vintages.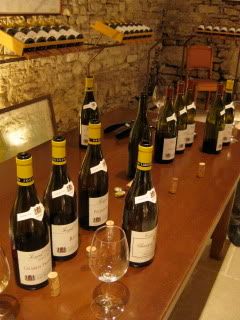 I was especially impressed by
2007 Meursault-Perriere 1er Cru
, and
2008 Marquis de Laguiche, Chassagne-Montrachet 1er Cru, "Morgeot"
. We also tasted
2002 Clos-de-Mouches (Blanc)
. Joseph Drouhin has been practicing entirely biodynamic since 1999. For such a large producer like them, it's not an easy commitment. But, they keep the standard very high and each wine is made with quality. It was another wonderful experience.