This evening, we met another wonderful friend for dinner. Peter who lives in Champagne, came to see us in Paris! He is an American and has been living in Champagne for 3 years.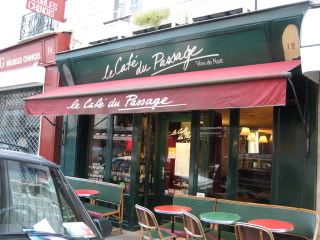 We decided to meet a little early for an aperitif. Peter suggested we meet at
Le Café du Passage (12, rue de Charonne – 75011)
near Republic.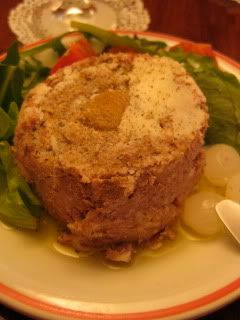 It's a very cute wine bar with the great antique feeling. They have a nice wine list as well as the food menu. We ordered some snack and
Bruno Michel, Champagne Brut, Cuvee Blanche
. Peter said it's 60% Pinot Meunier and 40% Chardonnay. It had the very nice smooth mooth with the elegant flavor.
It was such a nice aperitif time with a relaxed atmosphere.
From the wine bar, Lynne, Peter, and I took metro to get to the restaurant.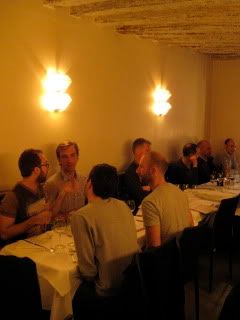 We had a reservation at
Pramil (9, rue de Verbois – 75003)
. It's a tiny bistro with only 36 seats. I heard a great reputation about this place, so I was so looking forward to come here for our very final night of this trip.
The menu has mostly Mediterranean-style seasonal dishes. You can make a 3-course prix-fixe for only 30 euros. Great deal!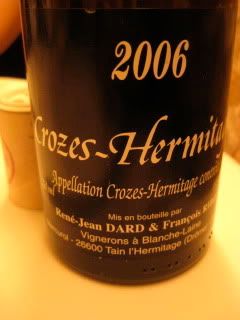 Peter selected the wine.
2006 Rene-Jean Dard & Francois Ribo, Crozes-Hermitage (blanc)
. After drinking only Burgundy last week, it was kind of nice to drink Crozes-Hermitage blanc two nights in a row. Peter said this producer is mostly organic. The dominant grape is Marsanne. It's got the nice earthy character and the flavors developed more and more as the wine opened up.
Lynne and I had the same first course. It was
Crème d'Asparage Blanche avec Glace au Foie-gras (cream of white asparagus soup with foie-gras ice cream)
. White asparagus is just in season, so I had to order it! I was suggested to let the foie-gras ice cram melt a little bit and taste with the soup. It was a wonderful dish. The soup was so pure, as if I am tasting the garden of white asparagus. And the foie-gras ice cream was so light and elegant. Beautiful dish.
Peter had
Tarte aux Courgettes et Sardine Fraiche (zucchini and fresh sardine tart)
. I had a taste and it was very nice, too.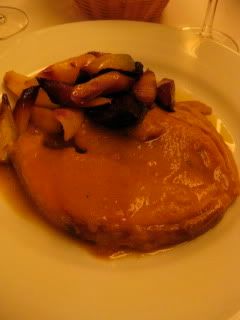 My main course was
Cochon de Lait Sauce Miso aux Trois Carottes (Suckling pig with miso sauce and tri-color carrots)
. The pork was so tender and melted in the mouth with the sauce. Miso sauce was mildly flavored. The glazed carrots were very flavorful. Very nice dish. Peter had
Coquilles Saint-Jacques a l'Ail des Ours (scallops with creamy garlic sauce)
. Scallops were so fresh taste.
Mille-feuille au Café
tasted very nice, too. The pastry was perfectly flakey. Peter's
Tarte aux Myrtilles et Crème Patissiere au Jasmin
was very simply presented, yet had the very complete flavors.
Their kitchen is extremely tiny (3 chefs can barely fit), and I was so impressed by all the delicately prepared dishes created there.
Chef Alain Pramil
came out to check with us a few times. He was so humble and so sweet! He was a high school physics teacher for 30+ years before becoming a chef. Now, it's been over 3 years since he opened his own restaurant and has been so successful.
It was a perfect lovely dinner with wonderful friends in Paris. After the dinner, outside was so cold and it felt like the winter was back. It was hard to believe we had such a warm sunny morning today.
I am leaving Paris tomorrow to go back to Los Angeles.