Our final dinner in Burgundy was another "kitchen" dinner!
From the hotel, we walked to
Caveau des Arches (0 Boulevard de Perpreuil – 21200 Beaune)
for the last "
soiree
" of the trip with this group.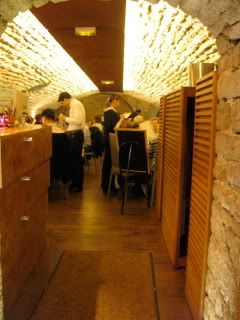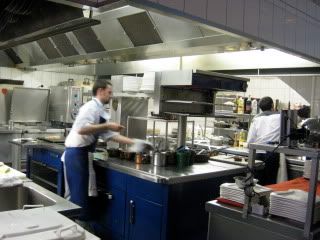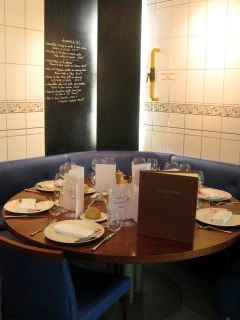 The restaurant has a very cute dining room. But, we walked through the kitchen to our table at the corner. Sarah's brother-in-law (Benjamin Leroux's brother), Florent, joined our final night in Beaune.
It was totally a different "kitchen" experience from Le Charlemagne where we had lunch earlier. This restaurant serves very rustic dishes and the kitchen was much more laid-back compared to Le Charlemagne.
Salade de Mesclun, Haricots Verts Croquants, Champignons Crus Eminces et Pamplemousse Rose.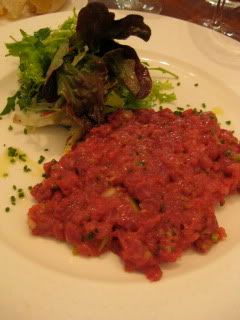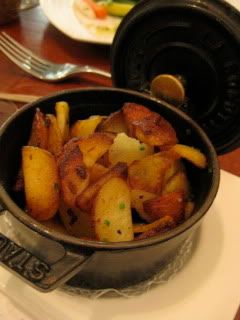 I felt I had to try beef once before leaving Burgundy, so I had
Tartare de Boef Coupe au Couteau, Pommes de Terre Sautees
. It was steak tartare. It had the nice fresh flavor. My friend had
Parmentier de Magret de Canard en Rosace Sauce au Pinot Noir et Petites Carottes Glacees
(duck breast with Pinot Noir sauce). She liked it.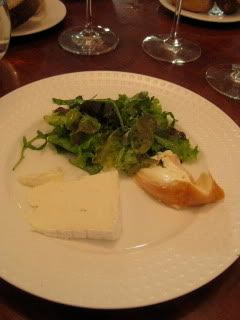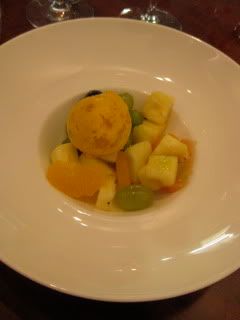 More local cheeses, and Fruits de Saison Rafraichis et Sorbet Passion.
We were hoping this restaurant's wine list would feature many interesting wines from older vintages like other restaurants we went to here in Beaune. But, their wine list was not very long and had mostly younger vintages. Here's what we had…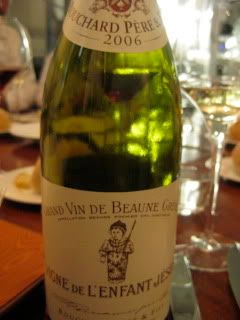 2007 Bruno Colin, St-Aubin 1er Cru, "Le Charmois"
2006 Buchard, Beaune 1er Cru, "Vigne de l'Enfant Jesus"
2001 Jayer-Gilles, Nuits-Saint-Georges "Les Hauts Poirets"
2005 Armand Rousseau, Gevrey-Chambertin 1er Cru, "Clos des Puchottes"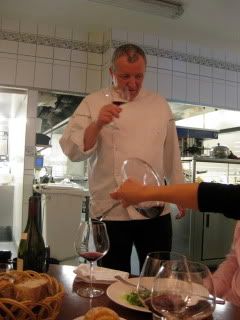 It was fun to be back in the kitchen table in a relaxed mood. Sometime, the chef came to our table to taste a wine with us. There were also regulars of the restaurant walked in from the back door to go to the dining room. Among them, we spotted Bruno Colin, too.
Tomorrow, we are going back to Paris.