Beaune is such a small town, but there are so many wonderful restaurants here.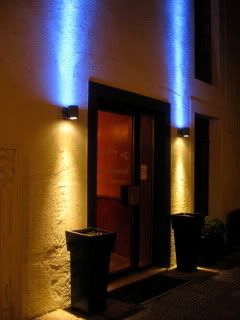 Our dinner tonight was also within walking-distance from our hotel. In fact, it was just a block from our hotel. We went to
L'Ecusson (Place Malmedy – 21200 Beaune)
, where they serve elegant Burgundian cuisine with the modern twist.
For an elegant place like this, they keep the very reasonable prices of both the menu and wine list. I tried their short course which was only 45 euros.
Amuse-bouche instantly hit my spot. It was
Escargots in garlic bouillon
.
Le produit elabore dans l'instant du moment, de la saison, l'inspiration du chef.
The course was basically "Chef's inspiration of the time of the season".
It was morel and other earthy mushrooms with sweetbread and foie gras cubes in the cream sauce.
Fantastic!! The flavor was so complete and exquisite. One of my friends had the asparagus soup with poached egg and jamon. It looked so delicious, too.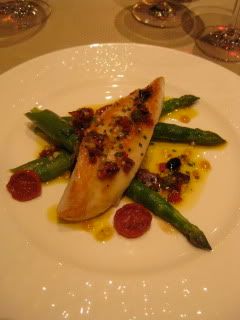 Filet de Saint Pierre poeler, pate de citron, asperges vertes et tomates confites, huile d'olive fruitee (Pan-seared John Dory with grapefruit, green asparagus, and tomato confit, with fruity olive oil).
The fish was really fresh quality and tasted really nice. I enjoyed the dish, because it was more like a Mediterranean-style with the olive oil (with fish roe, red bell pepper, olives, etc.) and not very heavy.
Cheese course.
I chose 5 kinds of mostly local Burgundian cheese.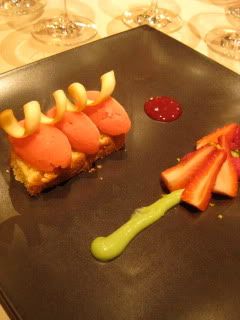 And, lots of dessert!
Chef came to our table to greet. He was very gracious. I would love to taste his food again.
We did another nice wine lineup tonight.
1996 Louis Carillon, Puligny-Montrachet
2002 Bernard Duga-Py, Bourgogne Rouge
1993 Domaine Comtes Lafond, Volnay 1er Cru, Santenos-du-Millieu
2001 Denis Mortet, Gevrey-Chambertin 1er Cru, "Les Champeaux"
1996 Domaine Taupenot-Merme, Charmes Chambertin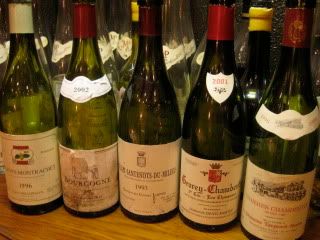 We've been eating so well and so much every meal here in Burgundy. My pants' button literally popped tonight.