Our last stop of the day was
Chateau de la Tour in Vougeot
. Within the Grand Cru vineyard of Clos de Vougeot, which was founded in the 12th century by the monks of the Abbey of Citeaux.
Within this walled vineyard of great Clos de Vougeot, there are two chateaus. One is an old Cistercian castle which now belongs to the Confrerie du Tastevin. And the other one is Chateau de la Tour which was built in 1890. The estate is now owned and run by
Francois Labet
.
After the tour of their cellar, we went back to their beautiful guest room.
We tasted 7 wines including 2008 vintage wines which were bottled just recently.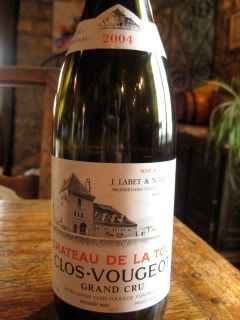 We also got to taste both
2008 and 2004 vintages of Clos-Vougeot
. They were both impressive. Their Clos-Vougeot Grand Cru are the only wines that are made, aged, bottled within the walls of the Clos de Vougeot.
Our host, Clair showed us different plots of the vineyard they own, as we tasted these wines. Chateau de la Tour owns the largest plot of Clos Vougeot (about 5.5 hecters or 15 acres) in the best side, which is about 11% of the entire vineyard.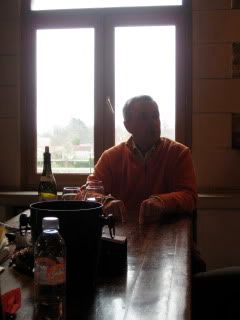 The owner, Francois Labet, himself came to join our tasting. We were so lucky to meet him today, as he travels all over the world and is often out of town. It was very nice to listen to his philosophy about wine-making, vintages, and even food-pairing with his wines.