Our next stop today was
Domaine Drouhin Laroze in Gevrey-Chambertin
. We came here for wine-tasting lunch.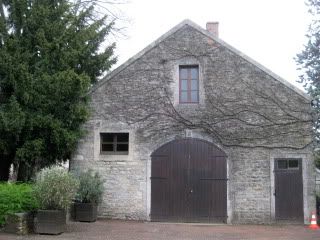 Drouhin Laroze is a family-owned estate which was established in Gevrey-Chambertin 1850. They are a rare domaine to have such a gorgeous property within this same village.
Among 15.5 hecter's vineyards (mostly in Gevrey-Chambertin) they own, half are Grand Cru vineyards! They also acquired small plot (0.13 hecter) of Musigny vineyard in 1996.
Our lunch took place in a small guest dining which overlooks one of their vineyards. Madame Marie-Christine Drouhin (the owner/ wife of the family) has loved cooking so much, so it was her idea to open a small restaurant within the domaine to serve her homemade meals. She serves lunch only.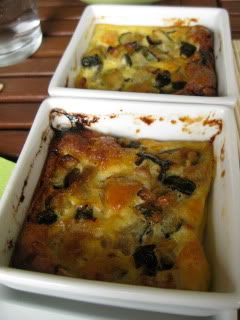 Gouger and Zucchini & Onion Gratin.
Cold pate of pork, with the mushroom quiche main course.
After the cheese course, we were treated to
caramel ice cream and chocolate mousse
, followed by petit-fours.
Marie-Christine's daughter also works in the restaurant. I heard she is also a very good chef and will be featured on a French cooking TV show next week!
The lunch was really great. Again, everything was homemade by Marie-Christine! I loved all the dishes, because they were truly French "home" style, and it was as if I was invited to a lunch at someone's home.
Wine was also great, too. We emptied 3 bottles of their Grand Cru wines for lunch! How crazy is that?! They are…
2004 Chapelle-Chambertin
2004 Clos de Vougeot
2002 Chambertin Clos de Beze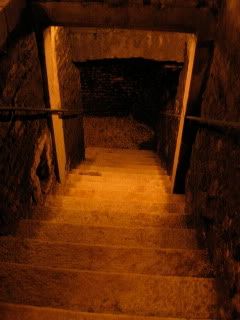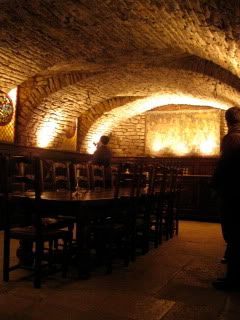 After the lunch, Marie-Christine took us to a tour of the domaine. I thought she was such a sweet lady, and so was her daughter. They gave us a very warm and personal hospitality today. I really want to come back here again.