The bike-ride was such a great experience. We biked just about 20 km (12.5 miles) today and came back to Beaune in the late afternoon.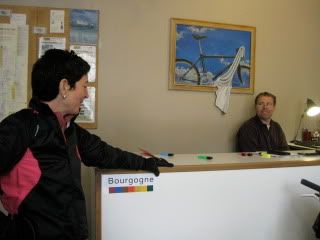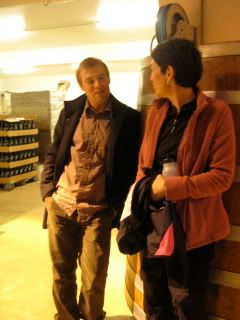 After returning our bikes, we walked to
Benjamin Leroux
at his domaine in Beaune. By the way, the owner of the bike rental shop, Florent, is Benjamin's brother! Also, they are our tour coordinator/ guide, Sarah's brother-in-laws. Sarah is married to their brother, Jerome, and together they run the customized tour company for Burgundy and other French regions.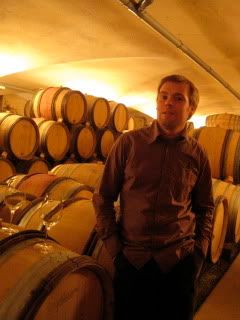 I was really excited to visit Benjamin Leroux in Beaune in this trip. He has been described as Burgundy's young prodigy. When he was still in his early 20's he became the head winemaker of Domaine Comte Armand's Clos des Epeneaux. Since 2007 vintage, he also sarted his own label as a negocient. He is still in his early 30's and his reputation is only getting better.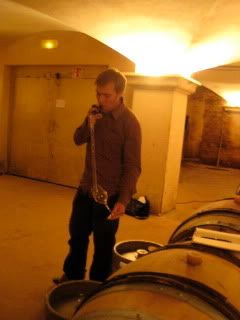 Benjamin took us to his barrel cellar to taste 2009 barrel samples. We tasted 9 different wines out of the barrels, as well as 2 of 2007 vintages which are already in the market.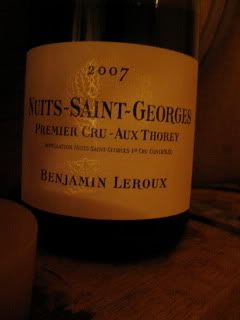 In this new project, Benjamin makes about 60% white and 40% red from different appellations. We tasted some really wonderful whites including Auxey-Duresses, Puligny-Montrachet. He even let us taste
2009 Batard-Montrachet!
This is the only vineyard he owns for his wine. It was so unbelievable with the amazing minerality (almost ice cold mouth feel) with enormous complexity. He makes only 2.5 barrels of this wine. Among the rouge we tasted were Savigny-les-Beaune, and Nuits-Saint-Georges 1er cru, "Aux Thorey".
Every wine we tasted, I thought, had an amazing potential. I also felt his wines are extremely terroir-oriented and authentic. He is a special talented (and young) winemaker the world has to watch.