We had dinner at another very local-style popular restaurant in Beaune tonight.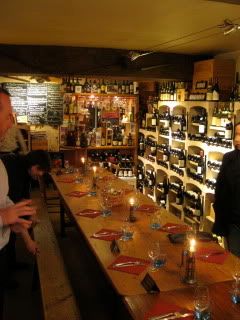 It's a very cute bistro called,
Caves Madeleine (8, rue du Faubourg Madeleine – 21200 Beaune)
. This tiny bistro has a reasonably priced menu with mostly rustic Burgundian dishes, and very exciting wine selection at unbelievable prices.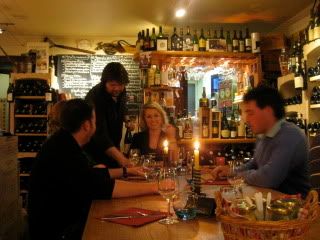 In fact, they don't have a wine list. You just need to stand up and go through the piles of wines in the shelves by the wall. Some wines are still in the boxes, so it's fun to go through these "newly arrived" boxes, too.
My appetizer was
Chicken gizzard salad with the creamy sauce
. The gizzard was super tender and rich flavor…wow, it was the best chicken gizzard I'd had.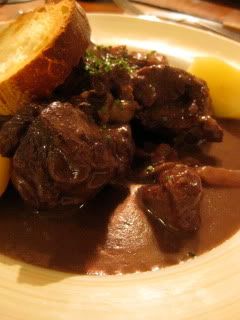 For main course, I did
Duck Confit
. Another hit! They really know how to make good food here. One of my friend had
Boeuf Bourguignon
, and it looked so delicious, too.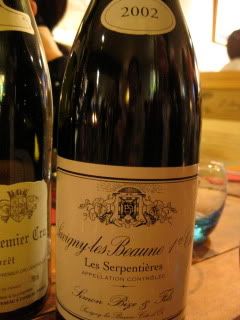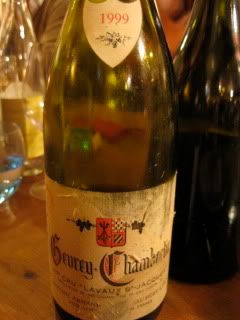 Among 6 of us, we ordered some very interesting wines.
2005 Domaine Francois Raveneau, Chablis 1er Cru, Feret
2002 Simon Bize, Savigny-les-Beaune 1er Cru, "Les Serpentieres"
1999 Comte Armand, Pommard 1er Cru, Clos des Epeneaux…this is Benjamin's first vintage of the vineyard!!
1999 Domaine Armand Rousseaux, Gevrey-Chambertin 1er Cru, "Lavaux St-Jacques"
Jackques Selosses, Champagne Brut, "Brut Initial"

The owner/ sommelier, Lolo (he is like French Jack Black) was such a charming interesting guy. His parents started this bistro and now he took over the operation. In the menu, I was surprised to see Japanese-style "Curry Rice". Later, I found out his wife is Japanese and he goes to Japan every year with his wife. And, he loves Japanese curry, so he decided to include it in the menu! He spoke very good Japanese, too.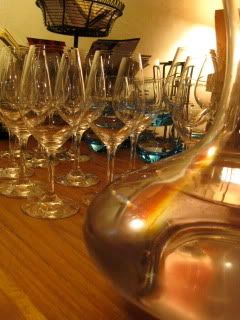 Caves Madeleine is a kind of place I want to keep coming back over and over…I wish there was a place like this in LA. I really do!