Today was our last day to spend a full day in Burgundy. I was feeling sad because I wanted to stay longer!



We've been just so lucky in this trip with the weather. Today was another gorgeous sunny day in Burgundy. Instead of visiting another wine domaine, our first appointment started with cooking class at
Le Charlemagne (Route des Vergelesses – 21420 Pernand Vergelesses)!
Le Charlemagne is a Michelin 1-star restaurant in the heart of Pernand Vergelesses.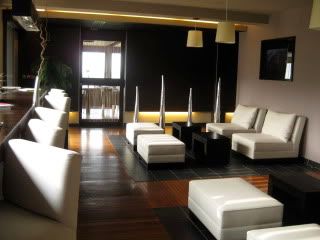 It's a very stylish restaurant with the amazing view of vineyards. From the bar, there is a panoramic view of Corton Charlemagne vineyard. Quite surreal.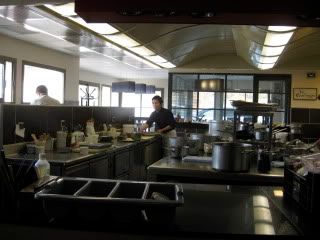 The owner/ Chef
Laurent Peugeot
gave us a cooking class in the kitchen. He is 35 years old and has extensive experiences in Michelin-star restaurants in France. He also lived in Japan for 4 years as a chef, and he loves Japanese cuisine. Several years ago, he and his Japanese wife (now they are separated, I was informed) opened Le Charlemagne after returning from Japan. So, in this restaurant, he incorporates some Japanese essence in his dishes. Now he owns 3 restaurants including a sushi restaurant in Beaune. There are also 6 chefs from Japan working for him.



The cooking course in the actual restaurant kitchen was a lot of fun. He showed us how to make 2 different fish courses with turbot fish. One was fish carpaccio and the other was a
poêle
(pan-fry) with "a la minute" smoke finish.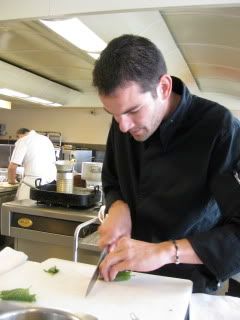 Laurent was very kind and also made the class a lot of fun. He demonstrated to us some techniques and recipe procedures. We also participated in chopping vegetables.



The fresh whole turbot was so big and looked so delicious. He showed us how to fabricate it and make filets. He did it so quick and made it look so easy.



I tried slicing the filet for carpaccio. It had to be paper-thin. With Laurent's super-sharp knife, I hope I got it right.



Laurent also showed us a very unique "a la minute" smoking technique. He lit a few sprigs of thyme and quickly put it in a plastic bowl and sealed with a lid. It became a smoke-filled "magic ball". How interesting!



After the class, we were ready for lunch. First, we were escorted back to the waiting bar of the restaurant for amuse-buche and aperitif. The plate included Grilled Eel Sushi Rolls, Salt Cod, wrapped in Potato Crepe, Escargot Croquettes, and Pickled Eggplant Puree with Crispy Parmesan Cheese. The wine was 2007 Olivier Leflaive, Pernand-Vergelesses. Yes, the very local wine!



We went back to the kitchen for our lunch. Our table was set at the corner end of the kitchen with the panoramic view of the vineyards on one side and the whole kitchen view on the other. This was, to me, like a dream lunch…the best table of the entire restaurant!



Bread was just made in the morning (I saw them coming out of the oven). They came with vinaigrette and matcha (green tea) sea salt. First dish was Foie Gras with Cassis Confiture, etc. Mmm…



Turbot Carpaccio. Yes, it's one of the dishes we learned (and saw the chef filleting the fish). Served with soy-miso vinaigrette, julienned shiso-basil, and red onion confit. Amazing. After eating all the rich food last several days in Burgundy, this super-delicate-fresh fish carpaccio (with Japanese flavors) was exactly what I wanted. Wine pairing was 2006 Les Heritiers du Comte Lafon, Macon-Bussieres "Le Monsand". Chef also brought us the "engawa" (muscle meat of the fin) of the fish, which was deep-fried in tempura-style. Wow, it was so delicious, too.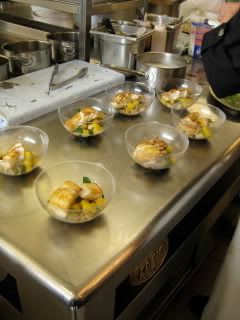 Watching the action of the chefs in the kitchen was so exciting also. Their movements seemed so precise and well orchestrated all the time. The "magic ball" fish dish was ready. Turbot was pan-fried and served with sautéed mushrooms, pineapple, with the sauce of veal stock reduction and coconut milk, and quickly smoked at the end.
Not only the presentation was so unique and appetizing, but the taste was even better. WONDERFUL!! Wow…can I make this dish at home? We learned how to make it, so I want to try. I want to tweak the chef's recipe a little even try with my donabe smoker, "Ibushi Gin". I'm so excited! Their sommeliere did a great job, also. Her pairing suggestion, 2008 Domaine Laurent Cognart, Montagny 1er Cru, "Les Bassets", complemented the dish very finely.



Cheese course was followed by the dessert. Matcha mousse, sorbet, etc.



What a great lunch experience. Great food and great hospitality.
Next time, I want to come back for dinner for sure!