I totally slept in this morning. After the hectic travel and long night (with party), I just needed a good sleep. But, when we woke up, I was already nicely hungry.
It was another gorgeous sunny day in Paris. Spring is here. We walked to
Le Comptoir du Relais (9, Carrefour de l'Odeon - 75006)
for brunch. This bistro was opened by a famous chef, Yves Camdeborde, in 2005. This extremely popular bistro was located luckily just across from our hotel. We sat inside and realized how tiny the space was. There are just about 20 seats with tiny tables. The menu is extensive with updated traditional bistro dishes. Everything looked so good...
I started with
Croque Monsieur Saumon Fume
. The toasted sandwich was filled with cheese, smoked salmon, and caviar. They made this simple dish perfectly right and I was so happy. The endive salad with the fried onion was so delicious, too.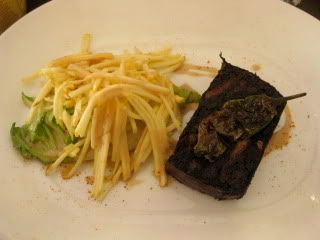 Then, I also ordered
Terrine de Boudin Noir Bearnais Poele
. It was a thick slice of Boudin Noir (pork blood sausage) terrine and the outside was seared. The terrine was topped with grilled pepper, and served with julienned pear salad. I must say, it was the BEST boudin noir I'd had!! Tres, tres bon! The texture was so rich and the flavor was super-deep. Great.
After 12.30pm, the restaurant was already packed and there were many people waiting outside. We were lucky that we got here just before the rush time. They don't take reservations for lunch. For dinner, you must call weeks ahead to get lucky to book a table.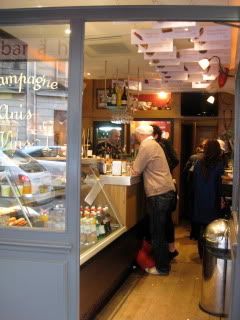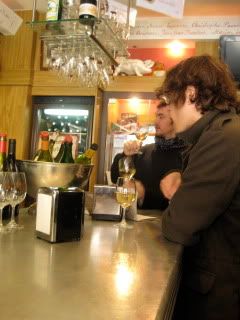 The right next door is their standing-only wine bar,
L'Avant Comptoir
. They serve casual wines by the glass with small plates including charcuterie, croquettes, etc. They also have the order window for crepe! I want to try their crepe next time.
After lunch, we walked more in the sunny Paris.
We found a couple of nice wine shops near our hotel. Right across from our hotel was a champagne store called,
Cave Saint Sulpice (3, rue Saint-Sulpice - 75006)
. Then, there was another store called,
La Cremerie (9, rue des Quatre Vents - 75006)
. It's a small wine shop/ gourmet store with a tasting bar. I found some amazing Champagne selections in this store. This is a must-return place next time.
I also picked up macarons from
Pierre Herme (72, rue Bonaparte 75006)
. I've tasted macarons from so many different shops, and Pierre Herme is my favorite.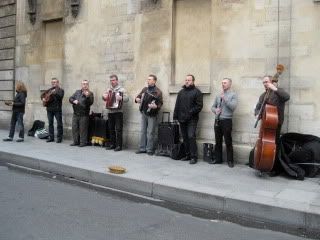 Later in the afternoon, we walked Marais area for more shopping. Many shops are open on Sundays in this area, and there are a lot of people! Fun Fun Fun.