In the late afternoon, we arrived at
Domaine Dujack in Morey-St-Denis
for the next appointment.
Domaine Dujac's wines are internationally renowned for the finesse. But they are actually a relatively young domaine in Burgundy. Domaine Dujac was established in 1968 by Seysses family. Now, the family owns about 12 hectars of vineyards including 5 Grand Crus. Their most reputed vineyard is Clos de la Roche.
Alec, who is the 2nd son of the owner Jacques Seysse, first took us to outside to show their vineyards as well as the winery facility.
We walked to their cellar for a tasting of 2008 vintage wines. We tried 8 kinds including
Clos-St-Denis
and
Bonne-Mars
. Dujac's philosophy is very terroir-oriented. Alec said, for each wine, 95% is made in the vineyard and 5% in the winery. They do use 100% new oak (only light toast) for Grand Cru wines, for better aging.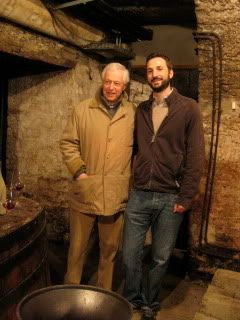 After 2008 vintage wines, we also tasted 2001 Clos-St-Denis. Then, Jacques came to greet us with a bottle in his hand. He brought
1976 Clos-St-Denis
to taste with us! What a treat!! Wow, the wine had the beautiful silky texture with the still fresh acidity and complex flavors of cherry, mushrooms, leather, etc. Gorgeous.
It was another wonderful visit.