On our 2nd night in Paris, we headed to
Les Cocottes (135, rue Saint-Dominique 75007)
for dinner. This is a restaurant I really wanted to check out. It's relatively a new restaurant by a famous French chef/ owner, Christian Constant, and one of the hottest eateries among local people.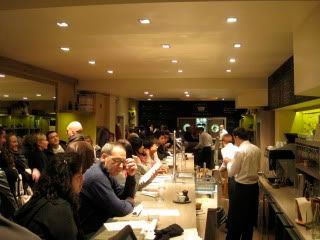 They don't have a phone number. They don't take any reservation. The restaurant opens 7.15pm every night. We got there about 7.25pm and luckily we could grab the last two empty seats! For Parisians, that's very early for dinner, but this place gets completely packed well before 8pm. From the point, 1 hour or longer waiting is very normal. After we took our seats, more and more people came in and the restaurant was even more packed with waiting people.
What's so unique about this restaurant is they cook/ serve almost everything in
Staub's cocottes
! Staub is one of the most respected cocotte (French cast iron coocware) brand of world. Cocotte for French people is like donabe for Japanese people. So, I really wanted to see how they do with all the different kinds of cocottes in this restaurant. It turned out to be quite inspiring as I imagined.
Their menu is not very long, but it's definitely very interesting. They have salads, appetizers, main course, and dessert selections. There is no set or course menu. Everything is ordered a la carte.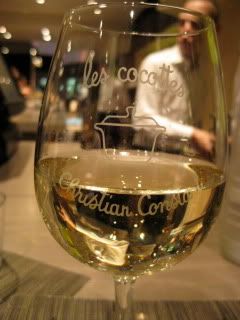 The wine list has a smart and reasonable selection of mostly French wines. I started with a glass of
2007 Philippe Defrance, Bourgogne Aligote
(only 4 euros by the glass). After such a busy active day, the tartness of Aligote was so refreshing. The wine glass had their logo on it and so cute.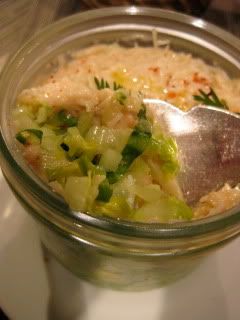 My first dish was
Cremeux de tourteau, chiffonnade de sucrine (Fresh crab salad with shredded lettuce hearts)
. It was actually served in a little jar, rather than a cocotte. It really hit my spot. I loved the presentation and also loved the very pure flavor of the dish.
Lynne had
Crème de potimarron, julienne de jambon de pays (Cream of butternut squash soup, julienne of country ham)
. It was served in a cute individual-size cocotte.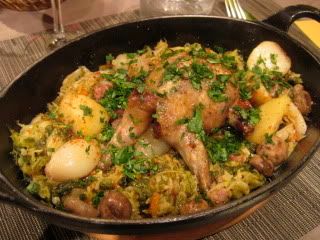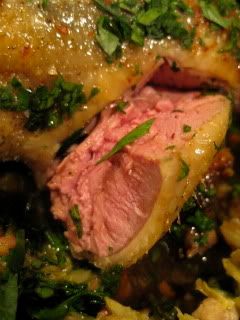 My main course was
Pigeonneau de nos regions, pommes de terre aux petits oignons (Frech woodpigeon with potatoes and spring onions)
. It was simply unbelievable!! The presentation was so right on. And the flavor was heavenly. The meat was so concentrated in flavor and had this firm density. Outstanding!! I had a couple of different red wines to pair with the dish also. One of them was
2007 Chateau Haut-Gazeau, Lussac-St-Emilion
.
Lynne had a very nice main, too. Her dish was
Agneau de lait des Pyrenees roti a la fleur de thym (Milk-fed lamb from the Pyrenees, roasted with fresh thyme)
. I tasted hers, and thought it was also amazing. Why and how do French people do meat so well?
The dessert of my choise was
Mamia du Pays Basque miel de sapin ('Mamia' from the Pays Basque with fir cone honey)
. What a simple yet sophisticated presentation of the dish! It was basically a very nice version of "milk pudding" with honey. That's it, and the flavor was so clean, and creamy at the same time. It was really great.
Our dinner was so amazing. I would recommend this restaurant to anyone who's going to Paris. I was so glad I could get to taste here tonight.