Apericena at Cafe Roberto
No donabe cooking for the next 9 days or so, as I just arrived in Torino (Turin) in Piemonte, Italy this afternoon! I am getting together with my wine group friends from Tokyo again for a week-long wine trip. They are arriving tomorrow night. We had a great time in Sicily last year, and Friuli & Slovenia a year before that. This year, we will travel Piemonte and Valle d'Aosta regions. It's my third time to travel Piemonte for wine, already...I love wines from this region so much.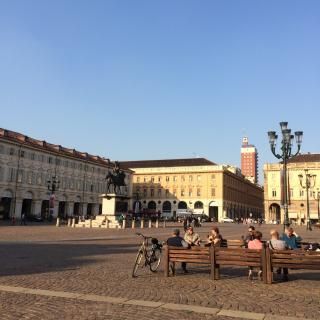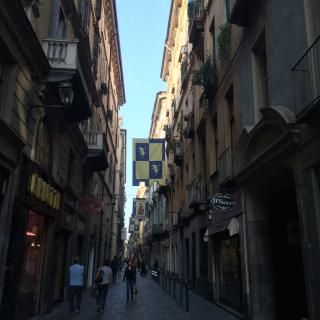 Torino was so sunny and warm. It was warmer than in LA. As soon as I checked in at the hotel, I took a walk around the city central.
Torino is famous for gelato and there is a big competition among so many gelaterias. The one I really wanted to go was
Piu' di un Gelato
. They have two locations and I went to the original one, which was hidden in a small street. The shop was so small and unpretentious, too. But, they make outstanding gelato. They source the freshly produced milk from local co-op every morning to make gelato. They also use premium ingredients for the flavors. I got three flavors: pistachio, hazelnuts, and dark chocolate. Mmmmm....really delicious and so creamy! I was so happy that I came here.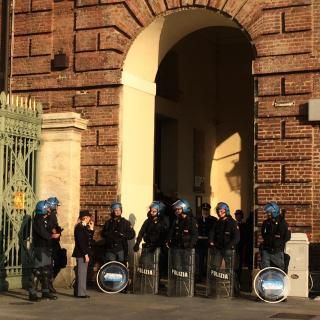 Then, I walked a lot more. Police was all over the town today and they were blocking many streets. It seemed like there was some protest rally at one of the plazas. But the town was still peaceful enough.
Because I was heavily jet-lagged and also quite tired from the long travel, I wasn't too hungry for dinner. So, I decided to try
Caffe Roberto
, a place that is famous for "
apericena"
. This cafe is open all day, but at 6 pm, they serve "apericena", which is the combination of "aperitivo"(aperitif) and light "cena" (meal). It's only 9 euros, and you get a large selection of buffet-style appetizers plus a drink. What a deal! So, I ordered a red wine, and tried Italian appetizers. It was a nice relaxing time.
I walked more to explore the town. I found Eataly's branch near my hotel. I want to have a drink there tomorrow.