What's cooking in a classic-style donabe, "Hakeme"?
My dear friends put together a dinner party to celebrate my birthday, the other night. The theme was DONABE TEST KITCHEN. I gave them some of the draft recipes from my upcoming donabe cookbook (to be published in Fall 2015 by Ten Speed Press), then they made dishes by following the recipes. How exciting, at the same time, I was a bit nervous, as my recipes were going to be tested without any photos or my personal instructions!
It was also weird (in a nice way) that these are all donabe dishes, and I didn't have to cook at all. I just showed up with Jason, and my friends were already cooking in the kitchen.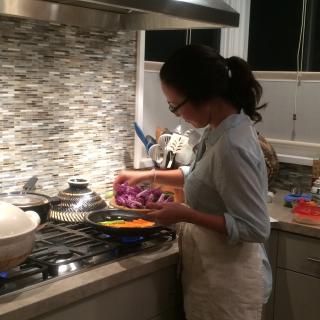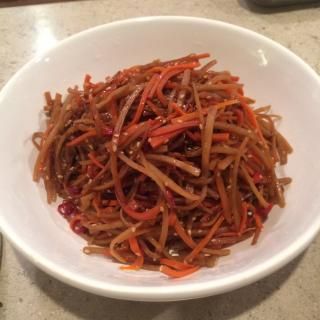 Asako made two dishes out of
tagine-style donabe, "Fukkura-san"
. These were steam-fried vegetables with sesame-tofu dipping sauce, and kimpira gobo (steam-fry burdock root and carrot in soy-based seasoning).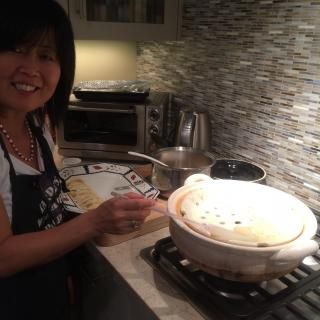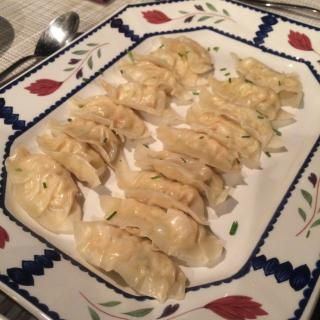 Sonya made steamed shrimp and tofu gyoza with
donabe steamer, "Mushi Nabe"
.
Table was set beautifully, and we began the donabe dinner. All the dipping sauces were out of my recipes for the book, too!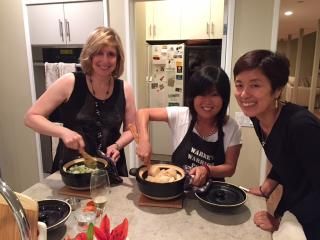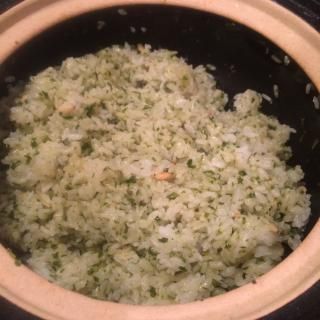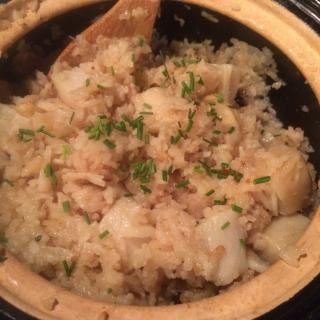 They made two kinds of rice dishes with
double-lid donabe rice cooker, "Kamado-san"
. Peggye made yuzu-kosho pesto rice. Sonya made Butter scallop rice.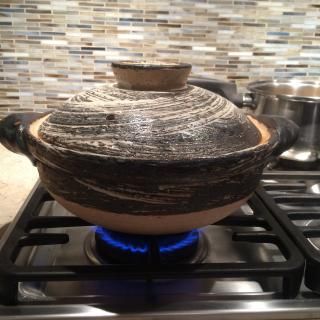 The "nabe" (hot pot) course was
"Kamo-nabe" (duck hot pot) with classic-style donabe, "Hakeme"
.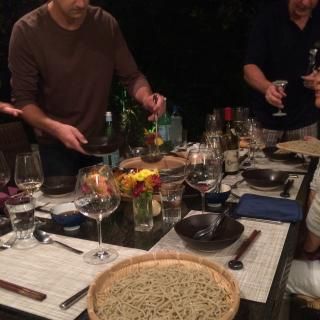 The meat came out perfectly tender. We saved some broth, to do the "shime" (finishing) course with soba noodles! We dipped the cold soba noodles in the hot broth to enjoy.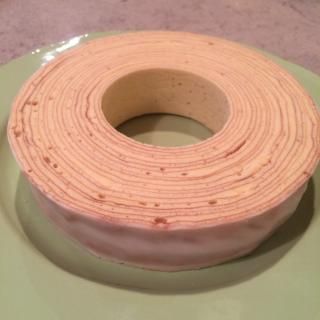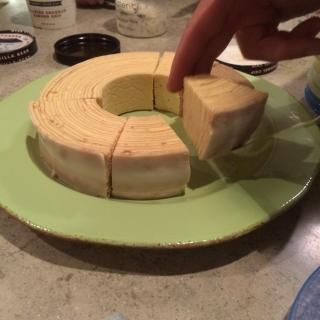 After the donabe courses, we enjoyed special baumkuchen (layered cake...originally brought to Japan from Germany about 100 years ago, and has been localized and become a very popular dessert in Japan), which I brought back from Japan.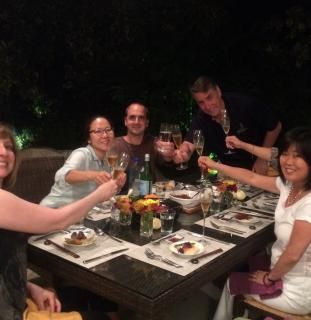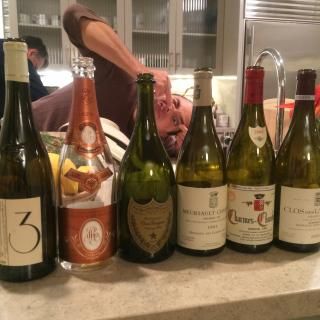 All the doanbe dishes they made were absolutely delicious, and I couldn't believe they made them from scratch out of my recipes, even without photos of the finished dishes. The best thing was that they all loved the recipes!! Oh, we opened some really special wines and sake, including 1995 Champagne Cristal Rose, 2002 Champagne Dom Perignon, 2002 Comtes Lafon Meursault-Charmes, 2004 Armand Rousseau, Charmes-Chambertin, 2002 Domaine des Lambrays, Clos des Lambrays, and Dassai Junmai Daiginjo.
Super happy donabe birthday dinner!!!