Local-style fungi pasta at il Circolo dei Lettori
Tonight, I met with a friend, who also arrived earlier than the rest of the wine group from Tokyo, for dinner.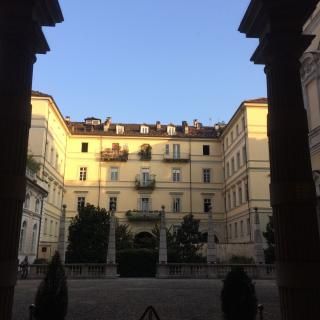 We had a reservation at a popular local restaurant called, il Circolo die Lettori. The restaurant is located within a historic architectural site, Palazzo Graneri della Roccia. You enter the gate, then see a beautiful courtyard surrounded by a building.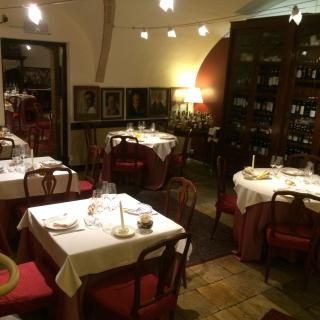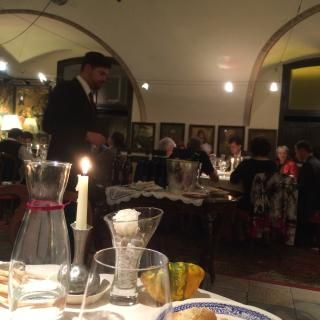 The restaurant is almost hidden in the basement floor. The inside is so beautiful with classic look and historic paintings. Our reservation was early so we were the first customers to arrive, but soon after the restaurant was completely full.
We enjoyed the amazing Piemontese dishes and pairing wines.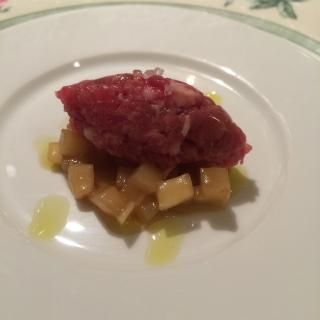 We started with Salsiccia di Bra. It was a tartare of pork and beef from Bra, served on top of turnip. Yes, raw pork! It was my first time to try pork tartare, and it was really tasty. All the bread and grissini are also handmade at the restaurant. I loved the bread with lardo (pork fat) inside.
Because I knew we will be eating a lot of meat in the next week, I chose seafood dishes. Started with trio of seafood tartare (bacalao - salt-cured cod, tuna, and sea bass). Then, I also had squid ink risotto. Really nice.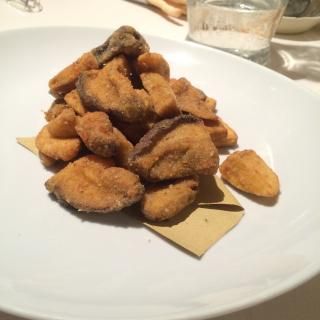 We also had porcini fritto. It's a very popular dish at this restaurant during the season. Really delicious!
Wiens were great, too. I had a great time!
After dinner, my friend took me to one of the historic cafes in Torino. It's called, Fiorio. The hot chocolate was the richest kind I had! It was almost like a sesame paste texture. Wow. I also enjoyed gelato of pistachio and cream.