Prosciutto Cotto e Crudo pizza at Eataly
Today, I explored central Torino during the day. I just walked and walked for hours and had a great time.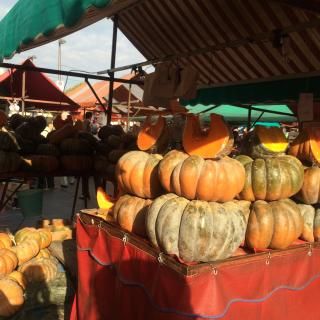 In the morning, I checked out a famous farmers market at Porta Palazzo. The market was HUGE! And the entire area was so jammed and lively with shoppers.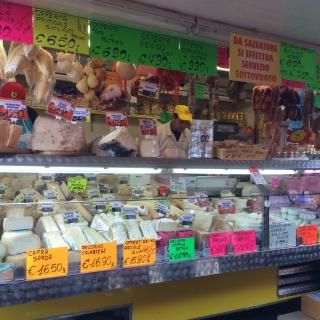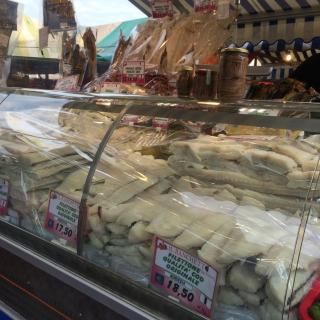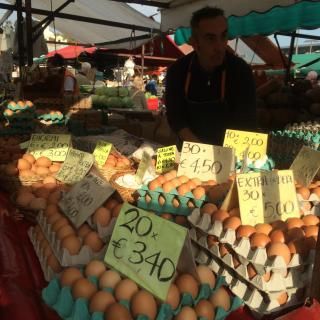 There were rows and rows of vendors selling all different kinds of produce, salted cod, cheese, meat, marinated olive, etc. etc.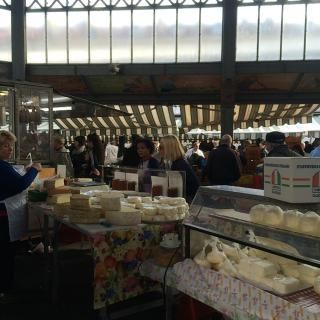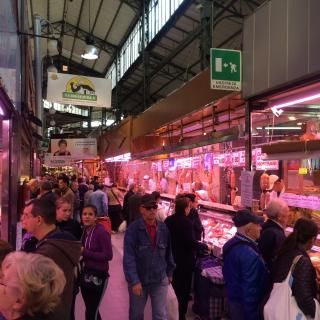 In addition to the outdoor market, there are also a few different indoor markets. One of them was almost entirely meat. I believe there are about a couple of dozen meat vendors in one floor. Amazing.
Then, as I walked out of the farmers market, I also checked out a flea market along Via Borgo Dora and its vicinity. All the streets of the district were completely filled with vendors of some good antiques and a lot and lot of junk...like, old remote controls for TV and stuff.
In the afternoon, I took a subway to get to Ligotto district, to visit
Eataly
's original location. I made it there finally!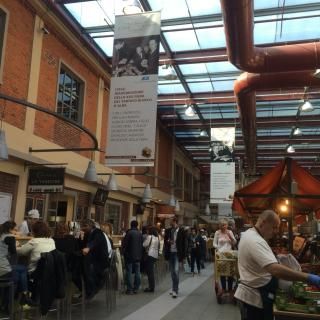 Compared to US outposts of Eataly (in NYC and Chicago), I found the original Torino location is much more modest looking and even somewhat industrial, while the market space is probably even bigger here. Yes, it's huge. And, I like that the atmosphere in this original location, as it seemed like a real market for locals. Oh, and their wine shop in the basement was huge. They also have a huge Italian craft beer selections.
All the restaurants inside looked so appetizing, but I already decided what to eat.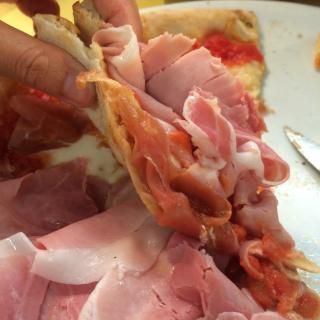 Yes, pizza! I really wanted to eat their pizza here...and I did it! I ordered Pizza di Prosciutto Cotto e Crudo. There are two kinds of prosciutto (cooked and 20-month cured kind) were piled over pizza margherita. It was so dynamic!! So I just sliced and started eating...wow, unbelievably delicious with such generous amount of prosciutto. The dough was perfectly crusty outside and chewy inside. I almost finished the whole thing myself. To enjoy with the pizza, since I learned the beautiful paring of prosciutto and Friulano white wines when I visited Friuli two years ago, I ordered 2013 Le Vigne di Zamo, Sauvignon. It was so lovely.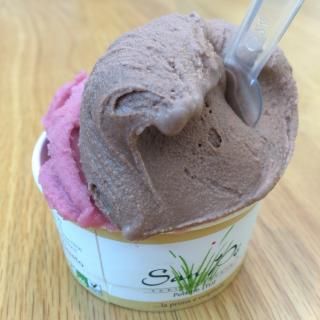 After the pizza, of course, I wanted to eat gelato! The gelateria at this Eataly is by
San Pe
, which is another artisan producer who make gelato from premium quality milk from their own farm. So, they call themselves "agrigelateria". I had Gianduia (chocolate + hazelnut) gelato and Marvasia e Fragola (Marvasia grape and strawberry). I was so pleased that they make gelato from Marvasia, which is a wine grape! San Pe's gelato was really tasty, just like yesterday's at Piu di un Gelato.
After the big lunch, I walked more.