Chicken "tsukune" and pickled napa cabbage hot pot
Donabe scene in Japan is becoming even hotter now, as Nagatani-en (who is the producer of authentic Iga-yaki donabe from Iga, Japan) has just released a brand new donabe cookbook in Japan! It's a cook book of all
Kamado-san
dishes. Very, exciting.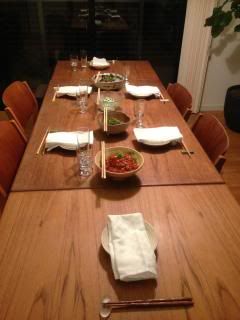 A day before the book launch, I got together with friends from iga-mono shop (Nagatani-en's donabe shop in Tokyo). The shop is run by Isako-san (youngest daughter of Nagatani family) and supervised by Akiyo-san (oldest daughter of Nagatani family). I was invited to Akiyo-san's house for dinner, along with Isako-san and Takemura-san.
Akiyo-san's husband cooked all the dishes for us. He is not a chef by profession, but his cooking talent is like a real skilled chef! We started with really delicious appetizers with Champagne.
Time for the main course. It was served in a beautiful Iga-yaki donabe! When Akiyo-san's husband opened the lid, everybody made a joyful applause. The aroma was incredible. He said it's a "very simple" hot pot dish. There were 3 main ingredients, tofu, chicken "tsukune" meatballs (deep-fried once in advance for better texture and flavor), and "hakusai-zuke" (pickled napa cabbage), in a homemade chicken and kombu broth. I couldn't help finding all the detailed works in the simplicity of this dish. The pickled napa cabbage released additional umami flavor to the broth. This dish was truly amazing!
"Shime" course was "champon" (deep fried flour noodle) from Nagasaki, cooked in the leftover broth. The noodles soaked up the broth and all the fortified umami flavors from it. We couldn't stop eating.
Yuzu granita was a nice refreshner after dinner. Bravo! Incredible dinner and hospitality. I had such a wonderful time.
I want to try to recreate the same hot pot dish with my donabe when I go back to LA!
Happy donabe life.