Busiate pasta with swordfish in tomato sauce
October 21 (Mon)
We drove further in Marsala, and our next appointment was with
Marco de Bartoli
.
The family took over the historic Marsala producer in the 1980, and they have been making both classic style and modern wines since then.
Vicchio Samperi
is their most important wine, unlike classic Marsala, this wine made from Grillo is not fortified. It's aged slowly in solera system.
They also make Spumante since 2008. After Marco passed away, his son started making it with Grillo grape and made in Champagne method.
In the vineyard, we tasted unharvested Grillo grapes. They were very sweet.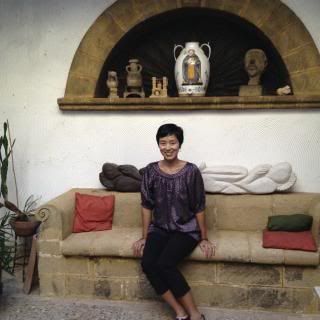 We were guided to the tasting room to taste a wide lineup of their wines.
2010 "Terzavia" Spumante Extra Brut
2011 Grappoli del Grillo
2012 Pietranera Zibibbo (from their vineyard in Panterellia)
Vecchio Samperi
Marsala Superiore Oro
1987 Marsala
2008 "Bukkuram", Passito di Panterellia
I really enjoyed the mellow and beautiful complexity of Vecchio Samperi.
We arrived in the old town of Marsala in the evening to check in at a hotel there. From the hotel, we walked along the coast to the old downtown.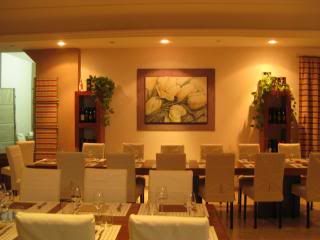 Our dinner tonight was at
Ristorante San Carlo
.
Appetizer was a nice lineup of local items...octopus carpaccio, raw tuna, poached tuna with sweet onion, fried shrimp, sardine, arancino, and local fish. Pasta was also wonderful. it was homemade busiate (Sicilian-style spiral shaped semi-long pasta) with swordfish in tomato sauce. I loved the slightly chewy texture of the pasta.
Main course was a combination of fritto misto, including local red fish, and half octopus. Dessert was fried pastry with ricotta cream and chocolate filling.
Wines were nice, too. We had...
2012 Cantine Paolini, "72 Filara", Inzolia Terre Siciliane
2012 Fonido Antico, Grillo Parlante Bianco
1980 Cantina Intorcia, Marsala, Vergine Riserva
After dinner, the chef gave us a ride back to the hotel. How sweet!
We had a wonderful night in Marasla.