Last Saturday, I hosted a donabe cooking class for a private group.
They were health-conscious people with sophisticated palates. I was excited to give a shojin cuisine (Buddhist temple-style vegan) theme class. We made 5 dishes.
Kabocha and persimmon in creamy tofu & Saikyo miso paste. Kabocha was cooked in
donabe steam-rosater, "Tochinsai"
. In this donabe, you can cook kabocha really nicely in such a short time. The texture is perfect without becoming watery or mushy.
Steam-fry burdock root and carrot ("kimpira gobo") was cooked in
tagine-style donabe, "Fukkura-san"
. We also made spinach in black sesame sauce ("goma-ae").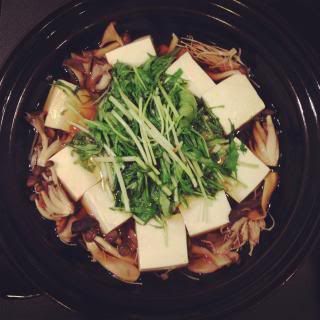 Hot pot of sun-dried mushrooms and tofu, was made in
Kyoto-style shallow donabe, "Kyoto Ame-yu"
. 4 different kinds of sun-dried mushrooms gave really deep umami flavor in the broth.
And, of course, donabe rice dish. We made salted kombu and ginger rice in
double-lid donabe rice cooker, "Kamado-san"
. Salted kombu ("shio-kombu") and dry shiitake made this dish so rich in flavor.
Kabocha & persimmon in creamy tofu & Saikyo miso paste
Spinach in black sesame sauce
Donabe steam-fried burdock root and carrot
Salted kombu and ginger rice
Tofu and sun-dried mushrooms hot pot
2012 Geyerhof, Gruner Veltliner, Rosensteig (Kremstal, Austria)
I was so happy that everybody enjoyed the class and they told me how much they loved the dishes and the time. I got special energy from them!
Happy donabe life.