Hamachi (yellowtail), daikon, and Tokyo negi for steam shabu shabu
I got a very nice hamachi (young yellowtail) loin from a fish market in the morning. It was a belly side with the nice oil content.
The hamachi loin was almost 2 pounds (900 g)! I decided to do "Hamachi Two Ways" for dinner.
As an appetizer, yes, it was a no brainer. For such a fresh quality hamachi, I just wanted to eat simple sashimi style. With sashimi soy sauce and wasabi, we were really happy people. I also served "shio-koji" marinated tofu and served it with wasabi and olive oil. Tofu (medium-firm from Meiji Tofu) was marinated in shio-koji for 3 days and it became so creamy and flavorful with all the pro-biotic effect from shio-koji!
Main course was going to be steam shabu shabu of hamachi! I cut the fish into relatively thick slices and got ready with sliced daikon radish and Tokyo negi to cook together.
Then, I got my
donabe steamer, "Mushi Nabe"
ready. Instead of water, I filled the donabe with dashi stock so that I can enjoy the soup afterwards.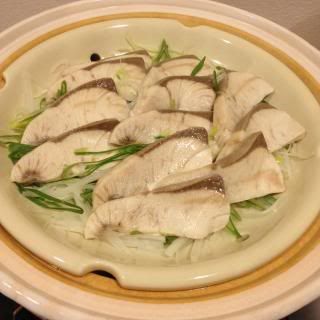 Making steam shabu shabu with donabe is extremely easy. Once the broth starts boiling, I spread the sliced daikon on the steam grate and steamed for a couple of minutes to soften it. Then, I opened the lid again and spread the scallion and laid the fish slices. Donabe was covered with lid again and cooked for just about 2 minutes over medium heat. The fish was just barely cooked through and the texture was perfect. We seved it with ponzu (to dip the fish and vegetables) as well as with my
homemade yuzu-kosho
separately. The flavor was incredible. It felt like the fish melted in my mouth!
After we finished the fish, I removed the grate and seasoned the remaining broth with a little salt and sake. Then, I added the udon noodles to make the "shime" (final) course, with addition of shimeji mushrooms and chrysanthemum leaves.
What a wonderful happy donabe meal!
Happy donabe life.