Barraco's Grillot vineyard
October 21 (Mon)
We left Palermo in the morning. Our destination today was Marsala, which is about 1.5 hours away to the west by car. After a smooth ride, we got to the beautiful coastal town of Marsala.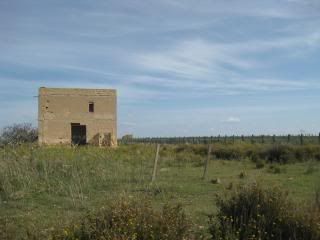 Our first appointment was with
Vini Barraco
. First, we drove to their vineyard right by the ocean. Our microbus drove through the very rough paths all the way to their vineyard site. I've never seen the vineyards like this before. It's right by the ocean but looked almost like vines on the desert.
Vini Barraco is run by Nino and his wife Angela. Nino's family has been growing grapes for generations and used to sell them to co-op. Since 2004, Nino and Angela started bottling their own wines.
Although it's in the heart of Marsala, they don't make fortified wines. They make single vineyard still wines. Their plots are planted with Grillo, Catarrato, Zibibbo, Pignatello, and nero d'Avola. Only about 3,000 bottles are made for each grape.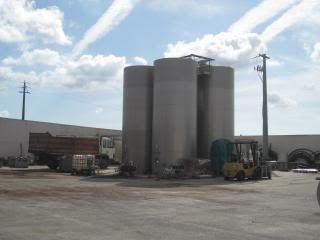 About 9 miles (15 km) from the vineyard is their winery facility. Since their production is so small, they rent a small part of a shared facility. We tasted some of their new vintage wines from tanks.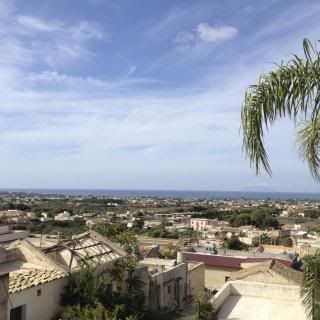 We drove again to a beautiful hilltop restaurant called
Le Lumie Ristorante
which was about 5 minutes from the winery. Overlooking the Mediterranean Ocean, the view from the restaurant was gorgeous.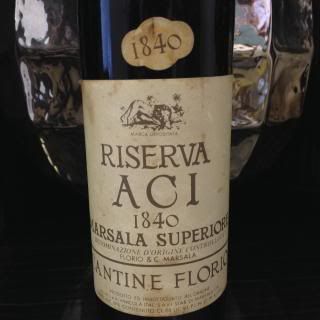 They set up our table in the outdoor patio, and our elegant lunch began. I found 1840 vintage Marsala Superiore Riserva! I didn't get to taste it, but I was so curious.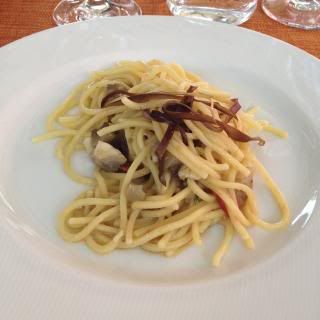 Antipasto was a mix plate of sliced tuna, octopus and potato salad, and white anchovy. The primo was handmade thick spaghetti with eggplant, swordfish, topped with eggplant skin. It was so fantastic! This one dish made me feel so happy to be in Sicily. This side of Sicily is also famous for cous cous, because there were many migrants from Africa back in the old times and brought many cultural influences from there. The homemade cous cous had the wonderful texture and cooked in fish broth with another fish and tomato. Excellent.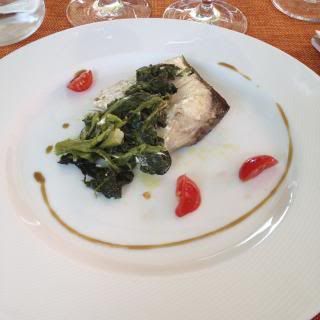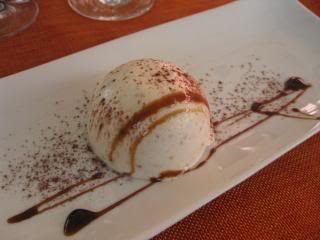 Secondi was a simply pan-fried local fish with local green (kind of like spinach). Dessert was fig and Marsala semifreddo.
With the meal, we enjoyed wines by Barraco.
2011 Cataratto
2012 Grillo
2011 Zibibbo
2011 Pignatello
2011 Nero d'Asola
Wonderful time.