Shrimp & tomato spaghetti at Trattoria al Piccolo Napoli
October 19 (Sat)
Two of the friends from my wine group had arrived in Palermo from Tokyo before I did. So, we were making a plan to get together for dinner, and I made dinner reservation several days before I left LA.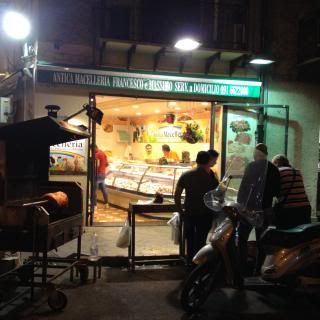 We met at the hotel lobby and walked to the restaurant. The restaurant was about 15 minutes walk from our hotel in the very old and very local neighborhood. It was a Saturday night, and there were so many local people hanging out shopping from street vendors or drinking at enoteca.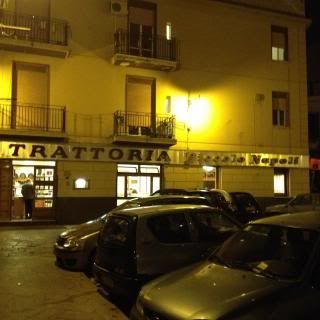 It was a bit of an adventure, but we finally made it to Trattoria al Piccolo Napoli. From outside, as it was on the ground floor of an old apartment building, it didn't look like such a popular restaurant.
But once we walked inside, it was a very busy place with such a good vibe! Trattoria al Piccolo Napoli is a family-owned traditional Sicilian seafood restaurant for over 60 years, and they has been love by locals for a long time. I was so glad that we had a reservation there.
Three of us ordered a bunch of dishes along with local wines. The antipasti were traditional caponata and seafood salad (octopus and squid).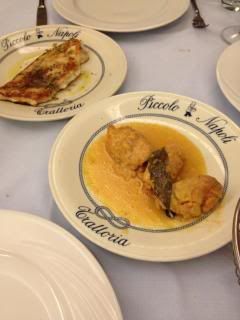 Pasta dishes were sardine bucatini and shrimp and tomato spaghetti. Sardine bucatini was marvelous. The secondi were grilled swardfish and involtini.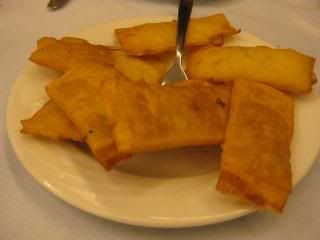 I tried Sicilian panelle (chickpea fritters) for the first time. They were so hot, fluffy, and very tasty. I also loved organic Catarratto. Desserts were cannoli and another ricotta cake. Again, the desserts were really sweet, just like the cannoli I had in the afternoon.
I totally loved the whole experience at Trattoria al Piccolo Napoli! It was so authentic, so local, and really good food. I was so happy to experience the real Palermo style dining on the first night here and I would love to come back to this restaurant if I have a chance again.