Dinner at Ristorante Caravanserraglio
October 22 (Tue)
After COS, we drove about 15 minutes to visit
Occhipinti
, which is also in Vittoria. Occhipinti was started by a young winemaker, Arianna Occhipinti, who is also a niece of Giusto Occhipinti, one of the founders of COS.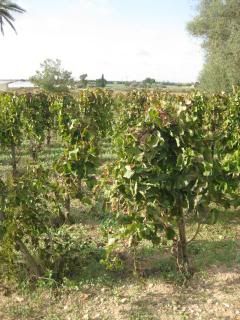 Occhipinti is relatively a new winery. Its first vintage was 2004. They have about 20 ha vineyards now.
After a tour of the winery and vineyards, we tasted a couple of their wines.
2012 SP68 (fermented and aged only in inox. Nero d'Avola 30% and Frappato 70%)
2011 Siccagno, Nero d'Avola (4 months maceration and 15 months in Slovenian oak)
Once we left the town of Vittoria, we drove to Ragusa, where we were going to spend a night. It's another very historic town with the magnificent view of the valley.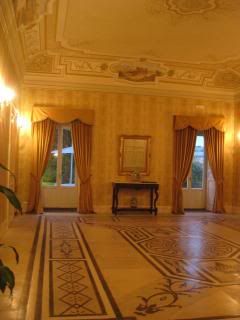 Our hotel was also a very historic building in the old downtown of Ragusa.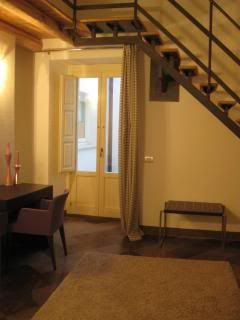 Each person got a suite. I even had a kitchen/ dining room and upstairs bedroom! So pretty.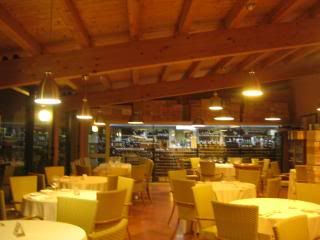 Dinner was at a popular local restaurant, Ristorante Caravanserraglio. We started with a wood-fired oven baked carzone-style rolled pizza. It was stuffed with tomato, cheese, etc. So tasty.
Sashimi-style (thick) tuna carpaccio was nicely fatty. I loved the involtini (rolled) style baked belt fish with breadcrumbs. The fish was so tender. It was followed by pasta with tuna and Etna mushrooms.
Secondi were roasted aguglia imperiale fish (similar to swordfish), and charcoal grilled lamb. Lamb was so packed with natural flavors and cooked perfectly.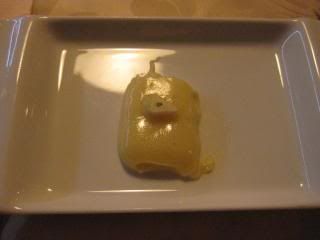 Cheese course and dessert (cow ricotta).
Wines were very good also.
2012 Centopassi, Catarrato, "Terre Siciliane" IGT (from Palermo)
2012 Valle Dell'Acate, "Il Frappato" Vittoria Frappato DOC
2004 Mazzeri, "Zisola" (from Noto)
I enjoyed both the food and Ragusa-style hospitality.