Grilled pork chop with donabe rice and salad
We wanted to make something simple and quick the other night, so I did a quick marinade of pork chops in oyster sauce for the grill. I use a special Hiroshima oyster sauce I brought back from Japan. Summer was gone, but it was a nice warm evening, so we set up a table in our patio.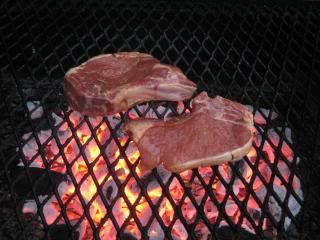 After just 1 hour in the marinade, the pork chops were cooked over mesquite charcoal in our Santa Maria BBQ Grill.
The meat came out so juicy and flavorful! To finish, I sprinkled a generous amount of sansho pepper powder from Kyoto. The aroma was enhanced even more beautifully. I loved the combination of smokey meat and umami-rich oyster sauce with the aromatic sansho kick. It was especially great with the freshly-made plain rice in my
double-lid donabe rice cooker, "Kamado-san"
.
Grilled Pork Chop, Marinated in Oyster Sauce
Ingredients:
(2 servings)
2 bone-in pork chops (about 3/4" or 2 cm thick)
(marinade)
2 tablespoons sake
1 2/3 tablespoons oyster sauce
1 teaspoon soy sauce or Asian fish sauce
1 tablespoon raw brown sugar
1/2 tablespoon grated ginger
powdered sansho pepper
cilantro
Procedure:
Trim off any excess fat from the pork.
Whisk together the ingredients for the marinade. Combine the pork and the marinade in a resealable plastic bag. Seal the bag tightly (keep the air out). Marinade for 45 - 60 minutes.
Remove the meat from the marinade and cook over the grill until your desired doneness. Meanwhile, baste the marinade a few times.
Serve in plates and garnish with some sansho pepper and chopped cilantro.