Good morning, Riviera Maya.
Every day is beautiful here. It's been sunny every day since we got here and the temperature has always been 85F or 86F high and 71F or 72F low since then. I enjoyed my fruits plate for breakfast before exercising at the gym.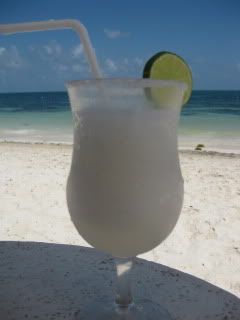 Laying around, drinking cocktails, dipping in the beautiful ocean...we had nice "lazy" hours today.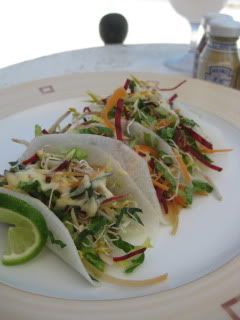 Lunch was wonderful again. My ceviche was, oh my...I just love ceviche they make here. Guac & salsa was top-notch. I want to eat it every day. Jason's appetizer (jicama "tacos") was really good, too.
My main course on the beach was Mexican-style seafood en papillote with grilled vegetables. Wonderful! I wished I could dip my donabe rice in the delicious sauce. Jason was crazy for his club sandwich. They just know how to make dishes right at this resort.
We did kayaking again in the afternoon (after a heavy nap on the beach!). It seems one of the Mexican celebrity group is having a party this evening. I saw employees setting things up busily all day today.