Besides hosting donabe cooking classes, I occasionally do catering, whenever time allows. My specialty is, yes of course, healthy Japanese meal, with many donabe dishes.
Last Tuesday, I catered lunch for 10 people at a photo shoot for a popular magazine. I cooked all vegetarian Japanese dishes.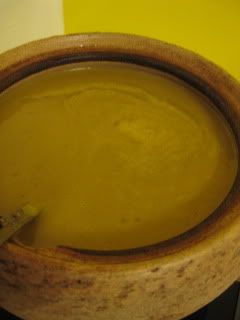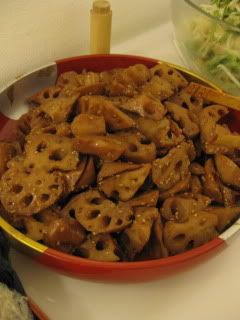 Here's the menu.
Menu
Tofu two ways
"Shira-ae" Creamy Tofu Salad with Kale & Roasted Golden Beets
•
Miso-marinated Tofu, served Sashimi-style
•
Kabocha & Satsuma-yam Potage
•
Daikon & Chrysanthemum Leaves Salad with "Shio-koji" Vinaigrette
-with Radish, Roasted Almond, and Tofu Croutons-
•
Steam-fry Crunchy Lotus Root in Soy-Black Vinegar Glaze
•
English Peas & Hijiki Seaweed Brown Rice "Onigiri" (rice balls)
-cooked in Iga-yaki Donabe (clay pot)-
•
To accompany "Onigiri"
Tokyo Turnip "Tsukemono" (pickles), marinated in "Shio-koji"
•
Dessert
Home-brew "Sake-kasu" (sake lees) Pound Cake
*"Shio-koji" (salt koji) is fermented koji rice (same starter for miso, soy sauce, sake, mirin, etc.) with salt. Koji is known for its remarkable level of "umami" flavors as well as various health benefits. "Sake-kasu" is also a koji product and is what's left after straining sake after fermentation.
March 13, 2012
Lunch created by Naoko Moore
naokomoore.com
www.toirokitchen.com
Every dish has my heart and soul.
Happy donabe life.