Another amazake dessert recipe I created...
I made sponge cake with dry yomogi weed (mugwort, from Aomori) and homemade donabe-fermented amazake. Then, rolled with amazake-cream & amanatto (sweet bean) filling.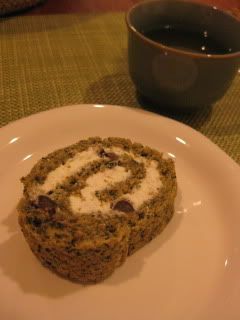 Another HOME RUN!
The sponge came out so delicately textured, with the subtle sweetness. The filling also gave nice balance with the sponge. I loved it so much.
Here's how I made it:
Yomogi Amazake Rolled Cake
Ingredients
3 egg white
45g raw brown sugar
3 egg yolks
45g wheat flour, sifted
3 g dry mugwort (you can find it at Japanese grocery store)
2 tablespoons heavy cream
3 tablespoons amazake base
(filling)
100ml heavy cream
50 ml amazake base
50 g amanatto (sweet red beans)
Procedure
1. Make meringue by whisking egg white. Add sugar a little by little while whisking.
2. Add egg yolks one by one while whisking.
3. Fold in flour by a spatula. Add dry mugwort and mix.
4. Add the cream and amazake and mix.
5. Pour into a 8"x11" sheet pan (lined with parchment paper), and bake in the 375F oven for 15 minutes or until ready. Cool down.
6. Meanwhile, make the filling by beating the heavy cream until stiff peaks form. Fold in the amazake and amanatto. Keep the mixture refrigerated until ready to use.
7. Take the cake out to a surface gently. Spread the filling to 2/3 of the surface from the end closer to you. Roll gently. Slice and serve.
Happy donabe and koji life.