It's Hollywood Bowl season again! Tonight's concert was Chaka Khan (she stepped in for Etta James who canceled her appearance for the reasons of illness), and Adele!
For Japanese people, Onigiri (rice ball) is the very traditional "must" item to bring to a picnic. Today, I cooked the simple plain whit rice with the donabe rice cooker, "
Kamado-san",
then tossed the rice with the crumbled dry wakame seaweed, sea salt and sesame seeds mixture.
When the rice is cooked with "Kamado-san", even more than a few hours later, the rice stays fluffy and tasty. I made 6 good size rice balls and Jason and I finished them all!
The main dish was the smoked wild-caught salmon and jumbo scallops.
I seasoned the salmon with salt, pepper, oregano, and a little amount of brown sugar. The scallops were seasoned with powdered yuzu kosho. Before start smoking them in the tagine-style donabe, "Fukkura-san", I coated both salmon and scallops with the olvie oil.
Then, they were smoked for about 30 minutes over low heat. Smoking really does the wonderful magic. Both the salmon and scallops were so deep in flavor and had the good dense texture. I loved them so much. Easy basic smoke recipe can be found on
toiro's website
.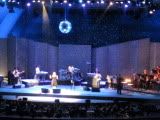 It was a completely sold-out concert and we had a blast. Adele was so charming, and extremely talented. Wow, she was so amazing.