Last Saturday, we celebrated 4th of July at our friends' house. My friend made the fantastic gourmet burgers.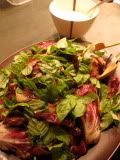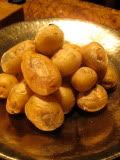 With the hamburgers, we paired Cote Rotie from two different producers. I brought a couple of dishes including the potatoes roasted with the tagine-style donabe, "Fukkura-san". This super-simple dish was a big hit! (You can fid the recipe
here
.)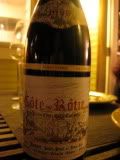 2001 Tardieu-Laurent, Cote-Rotie...
This is a joint project of Michel Tardieu (Rhone) and Dominique Laurent (Bourgogne). Very modern style. Big aroma of cherry, perfume, spice, etc. Rich and sexy on the palate. Still distinctive tannins and young.
1999 Domaine Jean-Luc et Jean Paul Jamet, Cote-Rotie...
The grapes are from two different sites of slopes (75% from the Côte Brune and 25% from the Côte Blonde). Earthier and more traditional style. Violet, dry berry, spice, earth on the nose. Round palate. Long finish.