Last Sunday was another Hollywood Bowl night. We went to see Death Cab For Cutie!
To take to the Bowl, I made all the dishse with my donabe(s).
The main dish was the
Smoked Duck, cooked with the Tagine-style Donabe ("Fukkura-san")
. I seasoned the duck breasts with salt and pepper, and let them rest in the fridge for 2 nights. Then, I smoked them with the Tagine-style Donabe with the basil leaves on top. (You can find the basic smoke recipe with the tagine-style donabe
here
.) The meat was so juicy and tasty even after a few hours (in the room temperature) after we got to the venue. It was so tasty that no sauce was necessary.
After making the duck, I used the same smoke chips in the tagine donabe and smoked the potatoes and okra, to make a simple salad. (I tossed them with tomatoes and vinaigrette.)
With the
double-lid donabe rice cooker ("Kamado-san")
, I made seaweed onigiri (rice balls). I used hijiki, wakame, and kombu, and tossed them in the rice after the rice was cooked. When ready to eat, I wrapped each onigiri with a whole piece of shiso leaves and nori seaweed.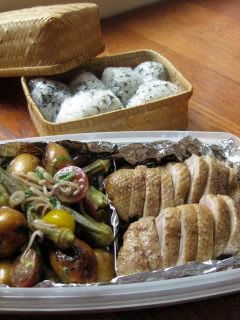 Perfect donabe picnic menu again!