Last Sunday was another Hollywood Bowl night! We saw Dengue Fever, Of Montreal, and Grace Jones!!
Just as I described in the last blog post, I cooked the brown rice with the dashi konbu, which was once used for making dashi.
Then, instead of just snacking on the konbu after cooking the rice, I sliced it very thin and mixed with chopped wakame, sesame seeds, and sea salt. I tossed the mixture with the brown rice and made onigiri (rice balls).
To eat, I wrapped the onigiri with a piece of shiso and nori seaweed. Wonderful!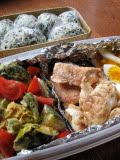 I also made smoked fish with the tagine-style donabe ("Fukkura-san") and Kabocha salad. Tagine donabe smoked fish is becoming our standard picnic dish.