This is a variation of my last posted dish, "Snowy Salmon (Salmon with grated daikon sauce)". I made the very similar sauce and this time, served with the Kurobuta Pork Hamburg Steaks.
First, I mixed the ground kurobuta pork with onions, sake, grated ginger, garlic, panko, egg, salt and pepper. I mixed the ingredients by hand and let the mixture rest in the fridge for 30 minutes.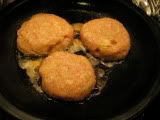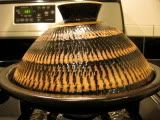 The mixture was then formed and seared in the skillet of the tagine-sytle donabe (Fukkura-san). After the hamburgers were flipped, I added the sauce (mixture of grated daikon, black vinegar, soy sauce, sake, grated ginger, mirin, etc.)
With the lid on, the meat was cooked for about 7 minutes.
Oh my, the meat was so juicy and so delicious! This tagine-style donabe really cookes through to the center of the meat until it's so hot without overcooking it. Daikon sauce was the great compliment to the juicy meat, and refreshing for the summer meal.
Now you can find the full recipe on
toiro's website
. So, please check it out!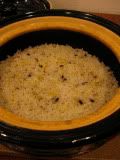 Today's rice was the mixture of white, brown, and multi-grain rice. It was cooked with the double-lid rice cooker donabe (Kamado-san). The rice was so nicely fluffy.
Wonderful summer meal.