Ever since its opening in May, I've been a huge fan of
Barbrix
in Sliverlake
. The food and service are superb. And they always have the great vibe. No wonder it's always so packed! I love it so much and I always have such a happy time there.
Tonight was another fantastic evening at Barbrix with fantastic wines. I got together with wine friends and opened some very nice Burgundy wines.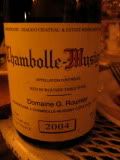 2003 Michel-Colin Deleger, Puligny-Montrachet 1er Cru, "La Truffiere"...
it was my wine. Light golden color. Very floral, butter, mineral, and honey suckle. Palate was so pure and minerally. Lemon curd, spice from oak. Long finish. So beautiful and great!
2000 Billaud-Simon, Chablis Grand Cru, "Vaudesir"...
Golden color. Slight advanced nose. Rich ripe pear and citrus. No oak is used. Rich fruit was balanced with the high acidity and dry palate.
2002 Domaine Raymond Launay, Latricieres-Chambertin, Grand Cru...
Ruby color. Aroma of brown sugar, dark berries. Fresh and meaty palate, steak tartare, spice. High acid. Nice balance. This wine can age many more years.
2004 Domaine Georges Roumier, Chambolle-Musigny...
I've had the same wine before, so I was glad I got it right when tasted it blind! Dark ruby color. Floral aroma. Berries, animal, brown sugar on the palate. high acidity. Elegant.
2006 Domaine Bachelet, Gevrey-Chambertin, Vieilles Vignes...
Dark berry, mocha, earthy on the nose. Very rich and complex on the palate.
1999 Domaine Humbert Frere, Gevrey-Chambertin, 1er Cru "Pouissenot"...
Only 500-600 bottles are produced. Humbert brothers are cousins of Bernad Duga-Py. Traditionalist. Soft leather, dry fruit, on the nose. Palate is mellow with ripe berry and meat. Beautiful.
1998 Dr. Loosen, Erdener Pralat, Riesling-Auslese...
Among the finest vineyards from Mosel. All south-facing. Candy fruit, honey, earth on the nose. Very rich fruit was balanced with high acid and minerality.