With the aromatic chicken stock I made (from the last posting), we did the family-style hot pot dish tonight.
Once you have this precious broth, the preparation is extremely easy. All we had to do was to mix the groud chicken with the seasonings, cut the vegetables, and set the dipping sauces and condiments.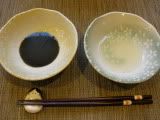 The chicken mixture was set in the bamboo tray, and I used the spatula to drop a bite-size into the pot one by one. Tonight's vegetables were carrot, mizuna, and enoki mushrooms. The dipping sauces were black sesame and salt ponzu. The condiments were scallion, grated ginger, and yuzu kosho. These are the basic simple lineup.
You eat as you cook, and cook as you eat. I posted the recipe on
toiro
's website
.
To end the meal, I added a few tablespoons of white sesame paste and a small amount of seaweed salt to the broth. Then, cooked saimin (Hawaiian noodles) in it! It was delicious.