I cooked somen noodles for lunch and had it in the patio. I served it in the tagine-style donabe, "Fukkura-san". This unique donabe (clay pot) isn't only great for cooking hot dishes, but also works as a "mini-fridge" with the effect of "heat of vaprization (evaporation of water)".

First, you soak both the skillet and lid of the donabe with water for 3-5 minutes and drain. Then, you spread the ice cubes in the skillet and cover with the lid. The inside of the donabe stays very cold like the refrigerator.
So, I served the noodles in this donabe and enjoyed with the dipping sauce and some simple condiments such as wasabi, grated ginger, shredded nori seaweed, and the mixture of shirasu, chopped mitsuba, and sesame seeds. I posted the recipe on
toiro
's website
.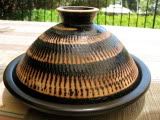 It's so cute. The inside is very cold.
One of my standard toppings...mixture of shirasu (baby white fish), chopped mitsuba and sesame seeds. I just top the noodles with them and eat very quickly.