With the tagine-style donabe, "Fukkura-san", it became the best tofu steak I've ever made! The key is the effect of the far-infrared radiation (FIR) during cooking from both the skillet and the lid. It's a natural heating effect, so the donabe just does it to the ingredients for you.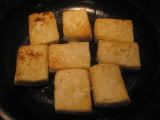 After draining the water from the tofu, it was sliced into 8 pieces and dredged with flour. Then, they were seared in the skillet of the tagine-style donabe until light brown.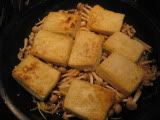 Tofu pieces were removed from the skillet and ginger and mushrooms were sauteed before the sauce (the mixture of chicken stock, soy sauce, oyster sauce, sake, and sugar) was added. Then, the tofu pieces were returned to the skillet, and cook with the lid on for about 5 minutes.
I added the full recipe of Tofu Steak with Tagine-style Donabe on
toiro's website
.
It's a light dish with the deep savory flavors.