We picked up some seafood from Whole Foods today. While it's quite hard to find the good seafood at local grocery stores in LA, I think Whole Foods' Glendale normally has the high quality seafood compared to other grocery stores. And the fish guys there are always very helpful, too.
I got some whole sardines, so I filed them (it's not so much a fun part), seasoned with salt & pepper, sprinkled flour, and pan-fried them both sides. As soon as I picked them up from the pan, I put them in the marinade, and let them rest for a few hours. Here's the recipe for basic marinade.
Sarde Marinate (Marinated Fried Sardine)
In a small pan, heat 1/4 cup olive oil and 1 clove or garlic (smashed) together over medium-high heat. Turn the heat to medium and add a couple of filets of sardine, sliced dried red chili peppers, and sliced shallots (1 head) and saute for a couple of minutes. Add 2.5 tablespoons of white wine vinegar, 2 tablespoons of lemon juice, and salt and pepper to taste. Set aside.
Once the fish filets are pan-fried, put them in a medium-deep dish. Sprinkle some diced tomatoes and pour the marinade over it immediately. Let the mixture rest for 3 hours to overnight. Serve with lemon wedges.
I served the dish with simple roasted potatoes with the tagine-style donabe (clay pot). The combination was perfect. You can find the tagine roasted potato recipe on
toiro
's website
.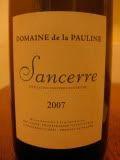 It was a beautiful evening to eat this appetizer in our patio. And, the dish went so well with 2007 Domaine de la Pauline, Sancerre. The wine was really nicely fresh and tangy, with the mineral and citrus flavors.