I got beautiful zucchini blossoms at a farmers' market a couple of days before.
These are really pretty, aren't they? I made the simple tempura of these blossoms as well as zucchini (squash), and served them with a light salt dipping sauce. They made the wonderful seasonal treat.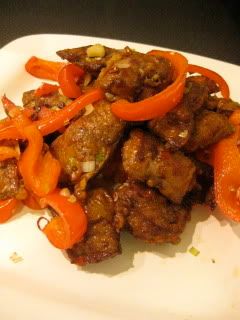 My husband, Jason, eats anything except for liver meat. But, he always wanted to get over this "fear". So I made him a liver dish for him tonight. We got the really clean grassfed bison liver meat from the same farmers' market (in Torrance), so I made the spicy Chinese-style liver dish. I first fried them with the light spicy batter, then sauteed with herbs and spices.
HE LOVED IT!