Jacques Selosse (owned and run by Anselme Selosse) is my favorite Champagne producer with no doubt.
Today, I opened his rose Champagne for my special friend, and we tasted together.
Anselme Selosse is the most influential individual figure in Champagne, and he makes the most outstanding wines from bio-dynamic farming. His wines are very small in production, thus they are not only very expensive, but also very hard to find.
Jacques Selosse's Champagne Brut Rose has the really beautiful salmon pink color. It's made of 93% Chardonnay (from Avize, Oger, and Cramant), and 7% Pinot Noir from Ay. He's been sourcing the Pinot Noir from Egly-Ouriet, but I heard that he now owns a vineyard in Ay.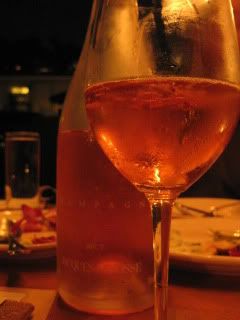 It was a VERY SPECIAL wine, indeed!!! The aroma was like the rose petals, berry, spice, biscuit, mineral, etc. The palate had the refined mousse with the burst of complex flavors. The finish was incredibly long. I was in heaven, indeed.
Here's the link to the info page of
Jacques Selosse
.