Nikujaga (Stewed thinly sliced beef and potatoes), which can be literally translated into "Meat-Potato", is one of the most popular "rustic" dishes in Japan. Its styles and ingredients vary from family to family, and from region to region. It's a simple dish and everybody loves it.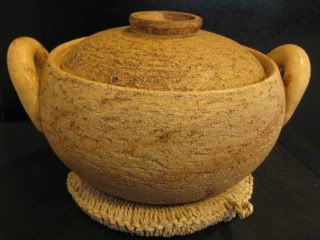 I cooked Nikujaga with the soup and stew donabe ("Miso-shiru Nabe") tonight. This donabe indeed does a magic to a stew. I always like my nikujaga, but this time with the donabe, it came out to be the best nikujaga I'd ever made. I cooked it with exactly the same recipe as I always do. The only difference was that it was cooked with the donabe, instead of a regular stainless or non-stick pot.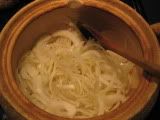 The recipe is very simple. I first sauteed the onion slices with the sesame oil, added the beef (I used premium Matsuzaka Beef) and vegetables. Don't forget to add the shirataki noodles (I used the tofu shirataki this time).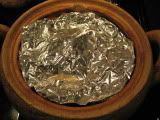 Then, I added the dashi stock, sake, to simmer for about 10 minutes. After that, I added the sugar, mirin, and soy sauce, to cook for another 10 minutes.
I posted the full recipe on
toiro's website
. So, please check it out!
Just like many other Japanese dishes, the best friend for Nikujaga is the plain fluffy rice. So, two donabes were in action on the stove at the same time tonight.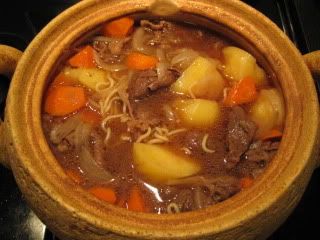 The slow-cooking effect and the heat retention of this donabe are exceptional. After turning off the heat, the stew was still simmering even after 10 minutes. It's the thick porous clay from Iga, Japan, as well as the FIR (Far-Infrared Radiation) from its glaze, which cook each ingredient evenly to the very core. The broth had the deep soothing flavor, infused with the meat and vegetables. Meat was so succulent. Potatoes were rich and dense. Fantastic!!
Oh, BTW, for me, adding shirataki (or tofu shirataki) is a must for this dish. This Japanese yam-based noodles soak up all the great flavors of the broth. In LA, tofu shirataki can be found at many regular grocery stores. I think it's been quite popular among American people as it's delicious while the calories are so low (shirataki has ZERO calories)!
You can find more information about the soup & stew donabe ("Miso-shiru Nabe") on
toiro's website
, too.