Donabe lids, being air-dried at Nagatani-en
(March 2015)
We spent almost a week with Nagatani family at Nagatani-en in Iga, Japan. As you may know, Nagatani-en is an artisan Iga-yaki donabe producer and have been run by Nagatani family for 8 generations. We are proud to represent
Nagatani-en's artisan Iga-yaki donabe products
in the US.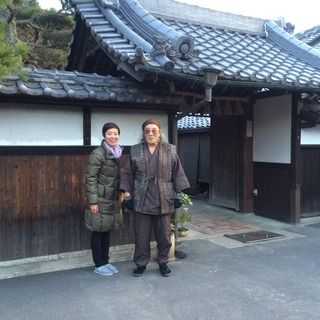 Coming back to Iga to see the family and the people at Nagatani-en is always very special to me. The chairman was doing great as the last time! Isako-san, who is the youngest of his 4 children and manages Nagatani-en's "iga-mono" shop in Tokyo, came back to Iga to see me and the guests I came with.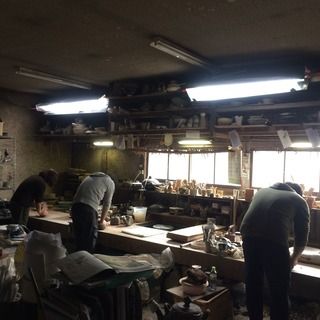 This time, I came back to host a visit of a film crew from the US. I can't give any details yet, but I coordinated their visit and shooting at Nagatani-en. It lasted for 3 full days, starting from the artisan's making donabe from scratch in their workshop.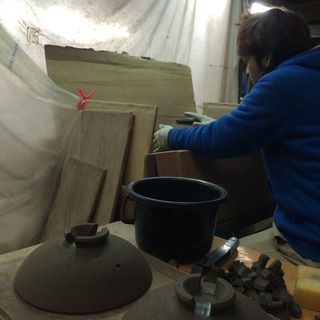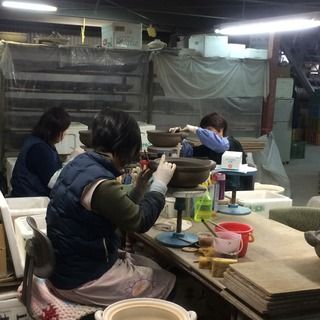 Then, I also guided them to the large production site in their factory side. At this site, each step is done by different craftsmen. The crew was very impressed by the operation and artisan works at Nagatani-en.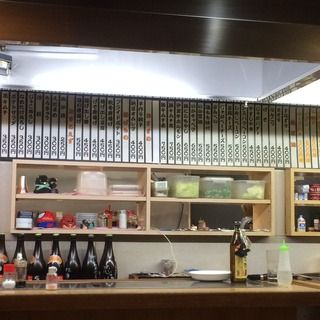 Every night after the shooting, we went out to different local places for dinner. One night, I enjoyed rustic izakaya where the chairman knows the owners very well. Their okonomiyaki (savory pancakes) were especially tasty!