Locally hunted "magamo" duck for donabe hot pot
(April 2015)
We came back from all the fun activities early evening. I enjoyed another relaxing onsen (hot spring) bath in my balcony.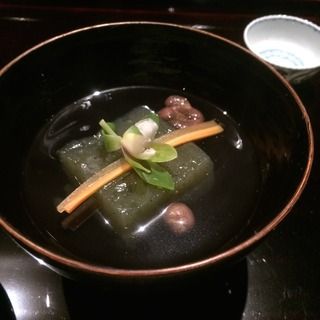 We were especially looking forward to the dinner, because the chef said he was going to use some of the mountain vegetables we foraged today in some dishes. The night started with vegetables in tofu paste, followed by yomogi (mugwort) cake soup.
With Kanazawa's famous Tengu no Mai sake, sushi and sashimi tasted especially wonderful.
Grilled bamboo shoot was followed by grilled fish in a clear broth.
Tonight's main course was magamo hot pot in donabe! The magamo duck is locally hunted in a traditional manner by a small net on a stick. Kaga's duck hunting season has just ended by they got one especially for us. They cooked and served duck in different ways.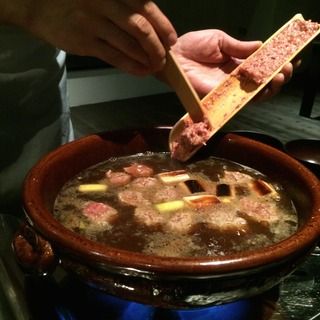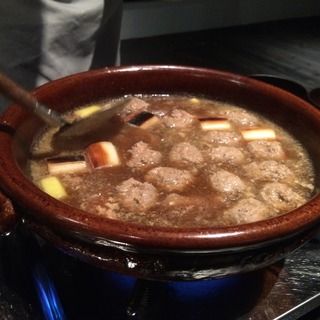 After enjoying breast slices, the chef cooked duck meat balls. The flavor was so rich and delicious. With the fortified broth, the final "shime" course was "ojiya" (soupy porridge). I was in heaven.
Happy donabe life.