A couple of friends came over last weekend, and we did BBQ with our Santa Maria BBQ Grill.
The main course was baby back ribs. I got two racks (about 4 pound total) and removed the silver skin and trimmed excess fat first. Then, marinated one with
shio-koji
and the other with yuzu shichimi salt for overnight.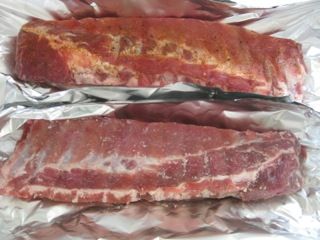 For the shio-koji marinated pork, gently wipe off the marinade with paper towel once it's taken out of refrigerator. They were wrapped in double-layer aluminum foil and roasted at 325F (about 160C) degrees for 2 hours, and rested (covered) for 1 hour.
Meanwhile, I got the basting sauce ready. It's so simple and so tasty. I whisked together 1/4C (60 ml) red miso (I used my 2-yr-old homemade miso), 1/2 tablespoon each grated ginger and garlic, 3 tablespoons homemade plum syrup (can be substituted with honey), 1 tablespoon sesame oil, and juice from half lime. I also added a couple of table spoons of cooking juice from the pork.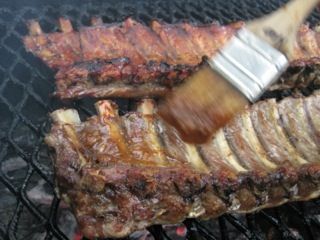 Baby Back Ribs were put on the medium-heat grill and cooked with the lid on for 8-10 minutes. Both sides were brushed with the basting sauce a few times meanwhile.
The meat was so tender!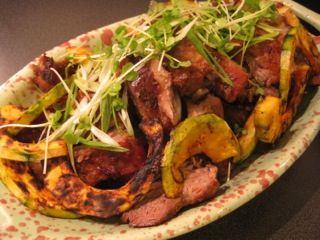 They were cut and served with grilled kabocha pumpkin, donabe corn rice (cooked in
double-lid donabe rice cooker, "Kamado-san"
) and brussels sprouts salad. Wonderful BBQ night under the full moon in our patio.
Happy donabe life.