(Saturday, June 8)
Back in Tokyo, I took a traditional "shojin" (Buddhist temple style vegan cuisine) cooking class. I, myself, enjoy hosting "shojin" cooking classes in LA sometimes, so I wanted to learn further for my self in this class. I was really excited.
This shojin cooking school,
Teran
, is located inside of 350-year-old Buddhist temple. The teacher, Asao-san, is a family member of the temple and she also helps the temple operation. There were 5 students including myself and we made 5 dishes today.
I was assigned to make
"Goma-dofu"
(sesame tofu). It's a very traditional and simple temple dish, made from just 3 ingredients…white sesame seeds, water, and arrowroot starch. But, the process is time-consuming and requires some important techniques. First, I and a classmate grounded the sesame seeds until they become very fine paste. We did it non stop for more than 30 minutes until the sesame seeds finally reached the ideal consistency. It was a lot of work! Water was added and the mixture was strained.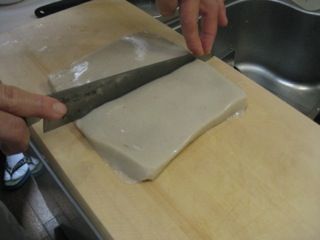 The strained content was mixed with arrowroot starch and stirred constantly over low heat for more than 10 minutes. Now the paste is made and poured into a mold and cooled down. After about 30 minutes, the Goma-dofu was ready!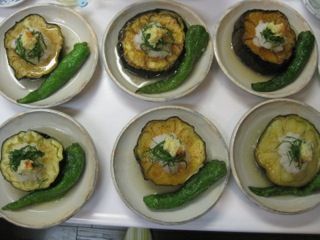 I also helped making fried Kamo nasu (Kyoto round eggplant) and Manganji togarashi (Kyoto sweet pepper) dish.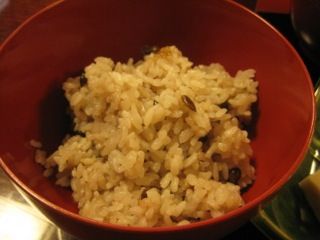 After all the dishes were ready, we had lunch at a guest room at the temple. The authentic shojin dishes are plated and looked so nice. Miso soup; Eggplant and pepper "age-dashi" (fried and served in a light broth); Fava beans and potato in peanut sauce; Grilled asparagus in black sesame sauce; "Goma-dofu"; Blanched udo stalks in sesame miso sauce; Rice with black beans.
Everything was authentic and delicious. My body was so happy and I want to try these dishes again at home.