(Saturday, June 8)
On a quiet alley in Aoyama, there is a small French restaurant,
L'AS
, which is run by a young chef owner. I met a friend thre for dinner.
It's a really hot restaurant and I had to call about a month in advance to secure a table for us. At L'AS, they have only one tasting course menu, which changes every 2 weeks, and dishes are made in a bare-exposed kitchen by the dining room. It was really cool to see all the actions just by our table.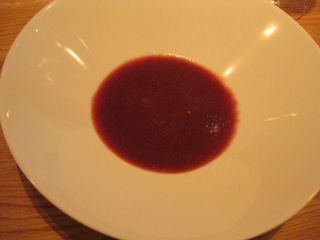 Mimolette croquette; American cherry gaspacho.
Foie gras sandwich with caramel and lemon.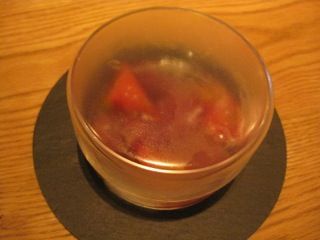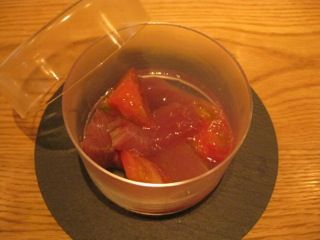 Fresh bonito, lightly smoked in straw with tomato marinade in vegetable broth.
Scallop and baby corn frito; Roasted pigeon with pureed olive and liver sauce.
Two kinds of dessert…Tomato compote with basil gelee and evoo; Coconut gnocchi, tangerine compote, and "kompeito" candies.
8 courses of beautifully-crafted dishes with such complete flavors. I loved every bite of every dish.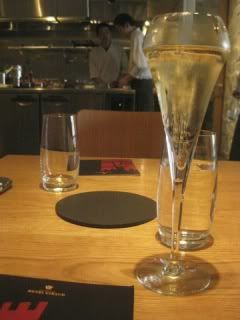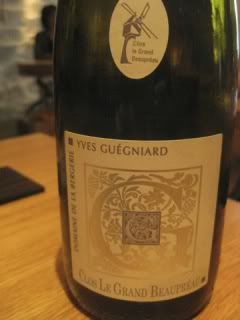 Henri Giraud, Hommage a Francois Hemart, Champagne, Brut Grand Cru (Ay)…PN 70%/ Ch 30%. Aged in used oak barrel. 2010 Domaine de la Bergerie, Savennieres, Clos le Grand, "Yves Guegniard"…Bio, small production. 2011 Stiftung Seit, Burgerspital Wurzburg, Wurzburger Abtslerte, Trocken, Silvaner (Franken) 2004 La Ca Nova, Barbaresco, "Bonstefano".
The wine list is full of attractive selections. This time, we did wine by the glass selected by the sommelier. He was so brillient.
This is a kind of restaurant I want to go every other week!