(Friday, June 7)
I checked out the hotel in the morning, and spent some time for grocery shopping before taking a Shinkansen express train back to Tokyo.
Back home with family, we enjoyed my food souvenirs from Kyoto for dinner. The traditional pressed sushi by Izuu since 1781. They were saba (mackerel) and tai (snapper). The vinegar-seasoned kelp is used for preservation purpose without refrigeration. To eat, you remove the kelp wrap and just bite into it. Old wisdom makes wonderful flavored sushi.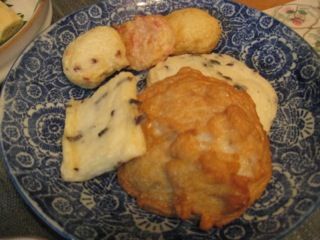 Grilled and seasoned hamo, yuba (tofu skin) sashimi, and Kyoto-style kamaboko (fish cakes).
They were all really nice with 2010 Simon di Brazzan, Blanc di Simon (Friuli). 100% Friulano.