This is a very easy donabe comfort food. You can enjoy it hot or at a room temperature. It tastes even better the next day.
The name "shigure-ni" refers to stewed dish in ginger flavor. The word "shirgure" means quick rain shower or rain shower which occurs intermittently. So, the origin of this name is said to be because this is a quick stew, or because the different flavors comes through a palate like a quick shower in this style of dish.
For this recipe, my
soup & stew donabe, "Miso-shiru Nabe"
does the perfect job.
Let's begin.
Sautée shirataki noodles until dry. Add sesame oil and potatoes.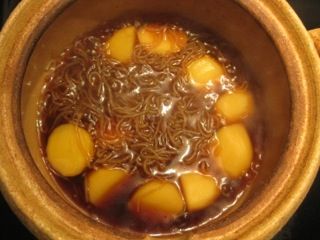 Add the sauce and simmer for 10 minutes. Add blanched beef and ginger and stir.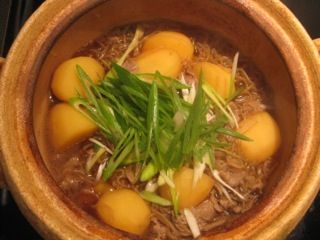 Stir in scallions. The dish is ready.
Quick-stewed Ginger Beef and Shirataki Noodles "Shigure-ni"
Ingredients:
12 oz (360 g) thinly-sliced beef, cut into smaller bite size pieces if necessary
7 oz (200 g) shirataki noodles (yam jelly noodles), blanched and cut into bite-size pieces
1 tablespoon sesame oil
5 small (about 2" or 5 cm long) potatoes, cut into half
(for the sauce)
3 oz (90 ml) water
3 oz (90 ml) sake
1/4 cup (60 ml) mirin
2 tablespoons Okinawa black sugar (or raw brown sugar)
1/4 cup (60 ml) soy sauce
1 knob ginger, sliced into needle-thin shreds
1 scallion, thinly-sliced diagonally
some sansho powder
Procedure:
Boil water in a pot. Blanch the beef for 5-10 seconds. Drain and shock in the ice water. Drain again and set aside in refrigerator. (The meat is still pink, and it's okay.)
In "Miso-shiru Nabe", add the shirataki noodles and stir over medium-heat until they are dry (3-4 minutes).
Add the sesame oil and potatoes. Stir for 1 minute.
In a bowl, combine the ingredients for the sauce, and add to "Miso-shiru Nabe". Line the surface with a drop lid ("otoshi-buta") or a parchment paper. Bring to a boil and reduce the heat to simmer. Simmer for 10 minutes over medium-low heat.
Add the blanched beef and ginger. Stir. Simmer for 3-4 minutes.
Add the scallion and stir.
Turn off the heat and let it rest for 5-10 minutes. Serve into individual bowls and sprinkle some sansho powder.
This dish is especially great with
plain donabe rice
. They are so good together that I can keep eating both!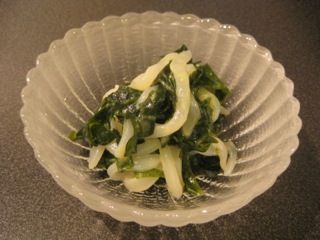 I also made squid sashimi ("ika somen") and wakame seaweed salad in miso vinegar sauce, miso soup, and tamago-yaki with mixed seaweed filling, served with braised sansho leaves from Kyoto. My happy meal.
Happy donabe life.