(Wednesday, June 5)
Just a stone-throw away from Robert-san's home was a restaurant we had a reservation at near Ginkakuji.
It's Sojiki Nakahigashi, which is one of the hardest restaurants to book a table in Kyoto and known for its unique "kaiseki" cuisine made from wild plants and flowers.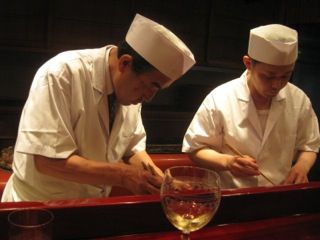 The owner chef, Nakahigashi-san, goes to a mountain every morning to harvest seasonal wild plants and herbs to use in his dishes. His culinary skills, concept, hospitality, and sense of humor (!) are all top notch.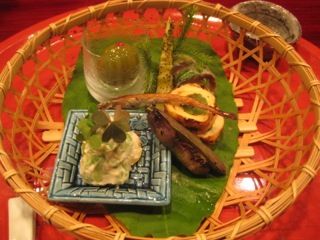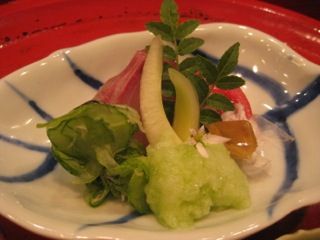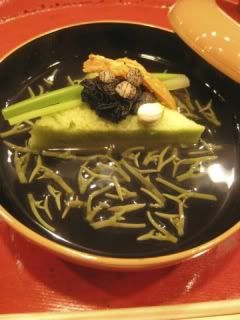 Dishes with all the seasonal sensitivity. I was totally blown away.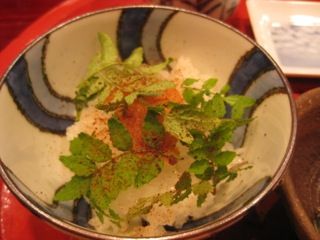 Nakahigashi-san cooks rice in donabe set in a large "kamado" stove. He is probably the only chef in the world who let each customer taste "nie-bana" rice right out of the pot right at the moment. "Nie-bana" is the stage where the firm rice grains just turns to soft "
al dente
" texture. What a great experience.
After the "Nie-bana", we waited for a little while for the rice to be fully cooked and served with grilled sardine, etc. At the end of the rice course, he even gave us "okoge", which is the crust part on the bottom of the pot!
We enjoyed both sake and wine selections at Nakahigashi. They don't have a written list, so it's good to ask Nakahigashi-san for his personal recommendation to pair with coming dishes. Domaine Taillandier's Savennieres was special barrel select for Sojiki Nakahigashi, and Muscat Bailey-A from Yamanashi was also a special selection for Sojiki Nakahigashi and the label was designed by Nakahigashi-san.
We left the restaurant with the ultimate satisfaction in both body and mind. As we were walking out of the restaurant, Nakahigashi-san ran after to catch us and gave us a little packages of sweet snack, made from soba. How sweet!!